Fluke 830 Laser Alignment Tool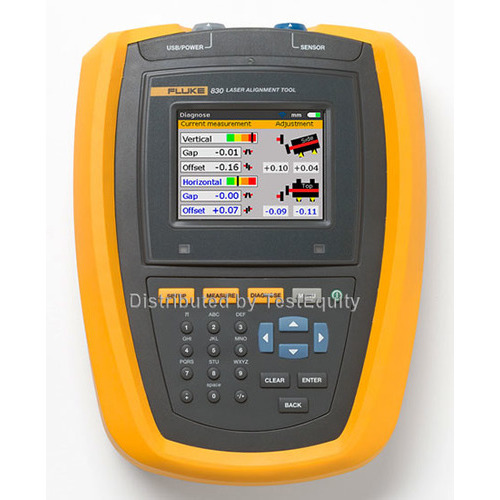 Brand:

Fluke

Condition:

New

Family Models:

FLUKE 830
Single laser measurement technology: reduced errors from backlash
Intuitive guided user interface
Compass measurement mode enables flexible, reliable and repeatable measurements using an activated electronic inclinometer
Dynamic machine tolerance check provides continuous alignment evaluation
Unique extend mode handles gross misalignment by virtually increasing laser detector size
Data protection with auto save and resume capability
Clock mode for vertical & flanged machines
Machine Flip to flip image of machine on screen
The ideal test tool to precision-align rotating shafts in your facility
The Fluke 830 Laser Shaft Alignment Tool is easy-to-use, giving you fast, accurate and actionable answers. The Fluke 830 uses a patented single laser precision alignment system that provides accurate and repeatable measurement results so you can be assured you're addressing misalignment problems properly.
Fast, accurate and actionable alignment answers
Unlike using the straight edge method or dial indicators, the Fluke 830 performs the complicated alignment calculations for you, meaning you'll have the answers you need to quickly align your machine and get your plant up and running fast. An enhanced user interface provides easy to understand results that don't require extensive alignment knowledge. And the unique "All-in-One" result screen that shows you both coupling results and feet corrections (vertical and horizontal) in real terms making it easy to take corrective action.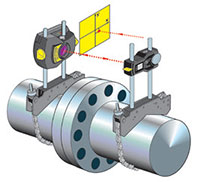 Fluke 830's unique "Extend" mode
Handling gross misalignment
When machines are well outside of accepted tolerances it can be difficult to get accurate alignment readings. For these gross misalignment problems the Fluke 830 uses a unique "Extend" mode allowing for better measurement accuracy by automatically increasing the effective sensor measurement area. Increasing the sensor measurement area virtually allows the Fluke 830 to address gross misalignment quickly without the need to perform an initial rough alignment.
Technology advancements eliminate difficult calculations and guesswork
Every organization can benefit from the energy savings, extended machine life, reduced production losses and reduced parts inventories that can be realized from precision alignment. And with the Fluke 830 it's more accessible than ever.
Included accessories: Laser sensor, laser prism, chain-type mounting bracket with 150 mm support posts (2x), 300 mm support post (4x), micro fiber cleaning cloth, sensor cable, PC cable, USB drive, USB drive cable, tape measure, wireless Bluetooth module, power adapter, instruction kit and carrying case.