Fluke 87-5 (87V) Industrial True-RMS Multimeter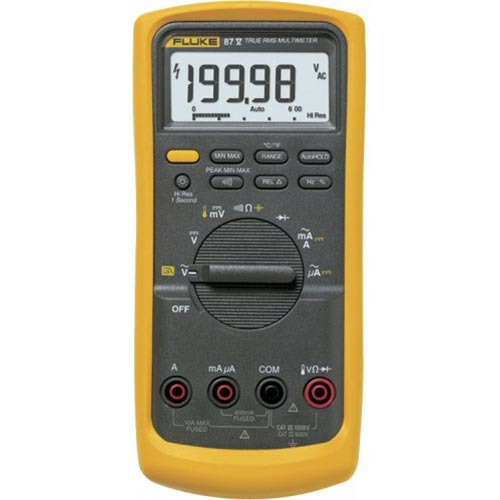 Brand:

Fluke

Condition:

New

Display Digits:

4.5

True RMS:

Yes
True-rms ac voltage and current
Built in thermometer
Measure up to 1000 V ac and dc
Measure up to 10 A (20 A for 30 seconds)
10,000 µF capacitance range
Frequency to 200 kHz and % duty cycle
Peak capture to record transients as fast as 250 µs
6,000 counts updates 4/sec; 19,999 Counts in high resolution mode
Lifetime warranty
Accuracy and diagnostic functions for maximum industrial productivity
The Fluke 87V (Fluke 87-5) has improved measurement functions, troubleshooting features, resolution and accuracy to solve more problems in electronics, plant automation, power distribution, and electro-mechanical equipment.
Features for maximum productivity
Unique function for accurate voltage and frequency measurements on adjustable speed motor drives and other electrically noisy equipment
Built-in thermometer conveniently allows you to take temperature readings without carrying a separate instrument
Optional magnetic hanger for easy setup and viewing while freeing your hands for other tasks
Large digit display with bright, two-level backlight makes the 80 Series V significantly easier to read than older models
Withstands hazardous 8,000 volt spikes caused by load switching and faults on industrial circuits and complies with second edition IEC and ANSI electrical safety standards
Save time maintaining adjustable speed motor drive systems with the 87V
Pinpoint problems faster with the 87V. Correctly measures the pulse width modulated output produced by ASDs
Accurately measure true-rms ac voltage, current (with optional i410 or i1010 current clamp accessories) and frequency at the motor and at the drive terminals
Included accessories
TL75 Test Leads, Alligator Clips, holster, 9 V battery (installed), temperature probe, CD-ROM (user's manual and technical notes) and operator's guide.
Note: Fluke does not include a calibration certificate with these meters.