Fluke 87-5/E2 KIT Industrial Electrician Combo Kit
Fluke 87-5/E2 KIT Industrial Electrician Combo Kit
12675.5
MFG #: 87-5/E2 KIT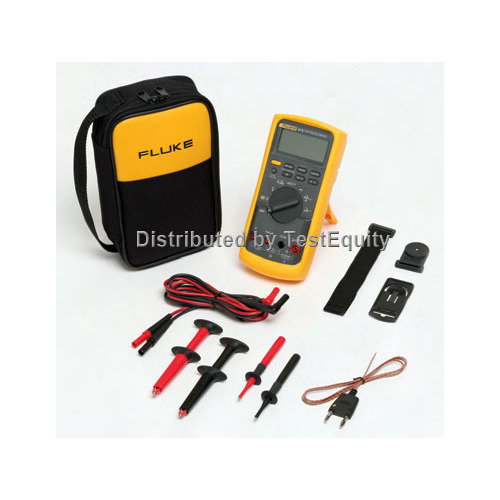 Manufacturer:

Fluke

Condition:

New

Display Digits:

4.5

True RMS:

Yes
True-rms ac voltage and current
Built in thermometer
1000 V ac and dc / 10 A (20 A for 30 seconds)
10,000 µF capacitance range
Frequency to 200 kHz and % duty cycle
Peak capture to record transients as fast as 250 µs
20,000 Count display, 4-1/2 digit mode
Lifetime warranty
Fluke 87V/E2 Industrial Electrician Combo Kit includes:
87V Industrial Multimeter
TL224 SureGrip™ Insulated Test Leads
AC220 SureGrip™ Alligator Clips
TL238 SureGrip™ Test Probes
ToolPak™ Magnetic Meter Hanging Kit
80BK-A DMM Temperature Probe
C35 Soft Carrying Case
9V battery (installed)
This combo kit is built around the Fluke 87V, the most widely used industrial digital multimeter in the world, and includes special accessories to make you even more productive on the job. This kit will save over 15% compared with the individual price of all the accessories. Plus you'll be working with the most trusted tools in the world.