Fluke 87-5-MAX (87V MAX) True-RMS Digital Multimeter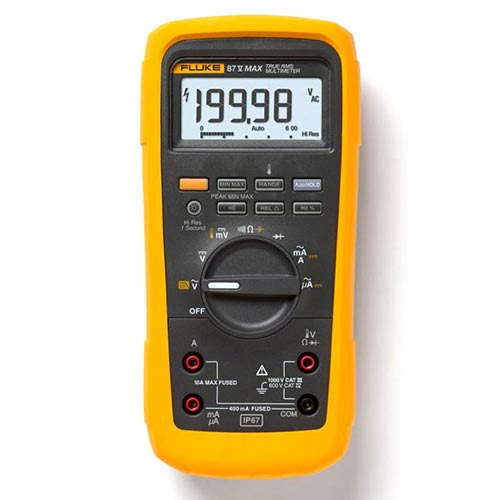 Brand:

Fluke

Condition:

New

Display Digits:

4.5

True RMS:

Yes

Meta Keywords:

87V MAX, 87-5 MAX
True-rms ac voltage and current for accurate measurements on non-linear signals
Measure up to 1000 V ac and dc
Measure up to 10 A (20 A for 30 seconds)
Frequency to 200 kHz
Built-in thermometer conveniently allows you to take temperature readings without having to carry a separate instrument
Min/Max/Average recording, plus 250 µs Peak min-max to capture variations automatically
Unique function for accurate voltage and frequency measurements on variable frequency motor drives (VFDs) and other electrically noisy equipment
Large display digits, 2-level bright white backlight and backlit keypad buttons for increased visibility
Hi resolution 19,999 count display mode
Long battery life (800 hours)
For use in extreme environments
The Fluke 87V MAX True-rms Digital Multimeter defines a new standard for operating in extreme conditions, with the features and accuracy to troubleshoot most electrical problems. The 87V MAX has an IP 67 (waterproof and dustproof) rating, extended operating temperature range of -15°C to +55°C (5°F to 131°F, -40°C for up to 20 minutes) and 95 % humidity, and has been designed and tested to withstand a 4 m (13 ft) drop. The Fluke 87V MAX Truerms Digital Multimeter is built to work in the toughest environments you might face. The 87V MAX also has an industrial-strength outer shell and a removable holster that doubles as test lead storage and a test probe holder for one-handed operation.
The 87V MAX contains all the trusted features of the most popular DMM used today, the Fluke 87V, plus much more.
Withstands drops up to 4-meters (13 feet)
Fluke's most rugged digital multimeter. The 87V MAX is built with an industrial strength case and a removable holster. The holster doubles as a test probe holder for one-handed operation.
IP67 rated
Fully waterproof and dust proof, to work reliably in all the places that you need to work.
Withstands heat and cold
The meter has an extended operating temperature range of -40°C (for up to 20 minutes) to +55°C
Includes:
Removable holster with test lead storage
TL175 TwistGuard® test leads
AC175 Alligator clips
80BK-A temperature probe
Three AA batteries (installed)