Fluke 88V (88-5) Automotive Multimeter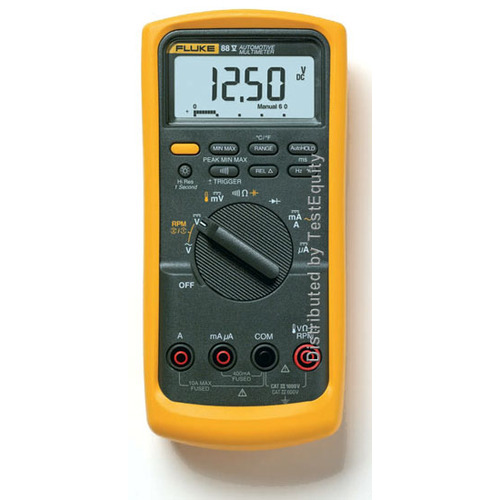 Brand:

Fluke

Condition:

New

Family Models:

88V (88-5)

Display Digits:

4.5

True RMS:

No
Resistance, continuity and diode test
Millisecond pulse width measurements for fuel injectors
Frequency to 200 kHz and % duty cycle
Measure up to 1000 V ac and dc
Measure current up to 10 A, 20 A for up to 30 seconds
4.5 digits for precise measurements
RPM measurements with optional inductive pickup
Temperature measurements with optional temperature probe
Limited lifetime warranty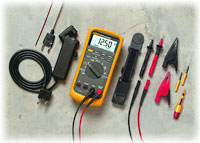 88V/A Automotive Combo Kit
The Fluke 88V has improved measurement functions, trouble-shooting features and accuracy to solve more problems on conventional and hybrid vehicles. The 88V is the most powerful automotive multimeter ever offered by Fluke. In addition to having all standard multimeter features like the ability to measure voltage, current, continuity, and resistance, the 88V can perform diode test and pulse width measurements.
The holster on the new Fluke 88V accepts a small but extremely powerful magnet (Fluke Tpak) that holds the meter firmly to most steel surfaces. This allows you to focus on taking measurements instead of holding the meter in your hand.
This meter can take current measurements up to 20A for 30 seconds and 10A continuously. The optional magnetic hanger lets you attach the meter to most steel surfaces for easy set-up and viewing. The 88V is designed to be used in high energy environments like those found on hybrid vehicles.
All inputs are protected to Category III, 1000 V and Category IV 600 V. They can withstand impulses in excess of 8,000 V and reduce risks related to surges