Fluke T5-1000 Electrical Tester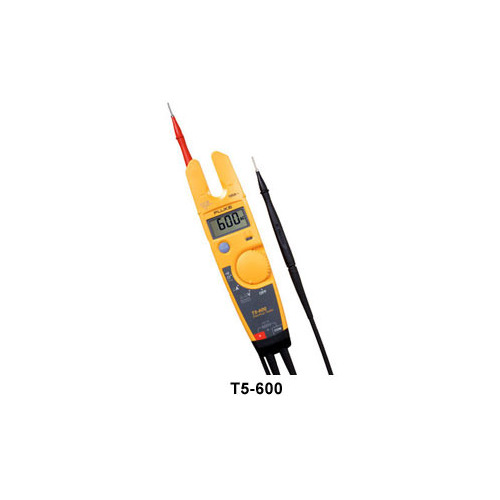 Brand:

Fluke

Condition:

New
Voltage, Continuity and Current Testers
T5-1000: to 1,000 V ac/dc; T5-600: to 600 V ac/dc
Automatically measures volts ac and volts dc with precise digital resolution
Displays resistance to 1000Ω
Easy and accurate OpenJaw™ current measurement
Continuity beeper
Compact design with neat probe storage
Rugged enough to withstand a 10-foot (3m) drop
Detachable SlimReach™ probe tips are customized for national electrical standards
Test leads accept Fluke accessory test clips
Can stay connected much longer than solenoid type tester
Auto off mode to conserve battery life
Optional holster attaches to a belt and neatly stows test leads
Electrical Testers with OpenJaw™ Current
Yes, the T5-600 and T5-1000 are general-purpose volts-ohms-amps electrical testers that measure ac and dc voltage, and resistance values up to 1,000 W. However: Once its stationary open jaws slide around a conductor, the two T5 testers safely measure ac current up to 100 A without clamping the jaws shut or breaking the circuit. That OpenJaw technology allows the T5s to make highly-accurate measurements in challenging environments.
The tough test leads stow neatly in the back of the tester, making it easy to tote in your tool pouch. Detachable SlimReach™ test probes are customized for national electrical standards. The test leads accept optional accessories such as clips and specialty probes. The optional H5 holster lets you clip the T5-600 or T5-1000 onto your belt.
T5-600: 600V ac/dc, CAT III
T5-1000: 1000V ac/dc, CAT III
Includes 4 mm detachable probes and instruction sheet.