Fluke T5-1K/PRV240 Proving Unit/Electrical Tester Kit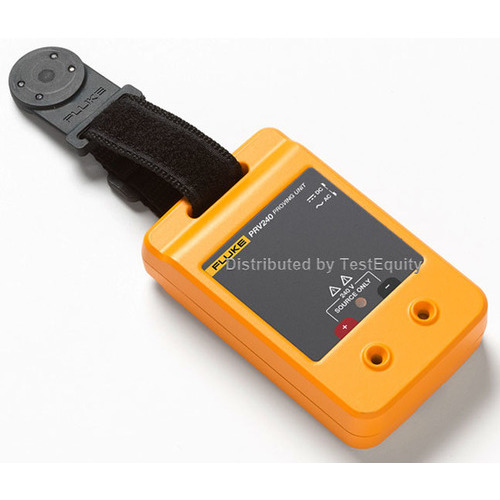 Brand:

Fluke

Condition:

New

Family Models:

PRV240
Using the PRV240 reduces the risk of shock and arc flash by validating the functionality of test tools without placing yourself in a potentially hazardous electrical environment
Sources both ac and dc steady-state voltage supplies 240 V dc/ac
A single LED indicates functionality, making this unit a simple-to-use solution for complying with TBT verification of your test tool
Compatible with both high impedance or low impedance multimeters, clamp meters or two pole testers
Voltage is sourced through recessed contacts that are activated when tested probes are inserted to avoid accidental contact
Includes TPAK magnetic hanging strap
Long battery life: 5,000 tests per set of four AA batteries
One-year warranty
Unique, compact, convenient
The Fluke PRV240 Proving Unit is a portable, pocket-sized, battery-powered voltage source. It is unique in that it sources stable ac and dc voltages for both LoZ and HiZ instruments.
Test Before Touch
The Fluke PRV240 Proving Unit is the only battery-powered voltage source that provides a safe method to verify that your electrical test tool is operating properly before you conduct further tests. The concept of "Test Before Touch" (TBT) involves testing your meter against a known live source before and after the actual measurement. This sequence verifies that your test tool is operating properly during the actual measurement.
Reduces the risk of shock and arc flash risk hazard
Even more important, TBT is recommended in GS38 and the most recent NFPA 70E guidelines. Using the PRV240 for TBT, bulky and cumbersome PPE is no longer required to verify the tester when a known source is not available. PPE is still required when performing absence of voltage tests.
The PRV240 Proving Unit is available as a stand-alone product and in five kits coupling it with DMMs and electrical testers. See them HERE.
Included: TPAK hanging strap, four AA batteries and instruction sheet.