Fluke T6-600 Electrical Tester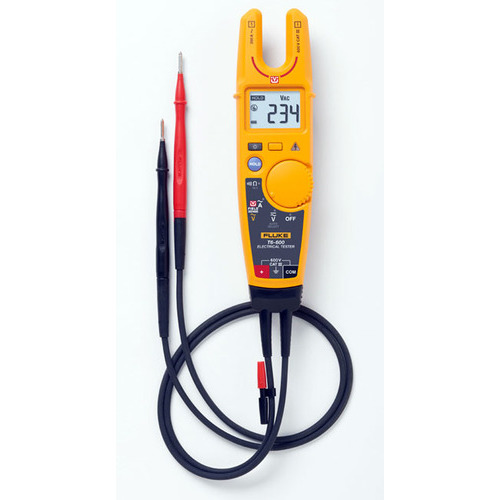 Brand:

Fluke

Condition:

New
NOW - Measure Voltage Without Test Leads!
Measure from 1 to 600 V ac or dc through the open fork, without test leads
Current measurements: 0.1 to 200 A ac
Resistance measurements: 1Ω to 1000Ω
Simultaneous voltage and current measurement
17.8 mm jaw opening accommodates wires up to AWG 4/0 (120 mm2)
Measure in tight spaces by not needing to use test leads
Make measurements with one hand, reducing risk
HOLD button temporarily freezes the reading for easy viewing
Save time by taking measurements without needing to remove covers and wire nuts
Easy to read display with backlight
Accepts optional Fluke TPAK Magnetic Meter Hanger for convenient operation
Two-year warranty
You can't measure voltage without test leads!

PRV240FS Proving Unit
Fluke T6 Electrical Testers with FieldSense technology
The new Fluke T6-600 Electrical Tester with FieldSense technology lets you measure voltage the same way you measure current, without test lead contact to live voltage. Just slide the open jaw over a conductor and see the voltage level. Much more than just a voltage detector, this new tester gives you a reliable voltage and current measurement, without test leads, and without contacting a bare, metal conductor.
Verify T6 operation with the PRV240FS — with and without test leads. And without unnecessary exposure to shock or arc flash
Also making use of FieldSense technology is the Fluke PRV240FS Proving Unit. This device provides a fast, safe and reliable sourcing method to verify that your electrical test tool is operating properly before you conduct any live tests — without having to make electrical contact. The concept of "Test Before Touch" (TBT) involves testing your test tool against a known live source before and after the actual measurement. This sequence verifies that your test tool is operating properly during the actual measurement.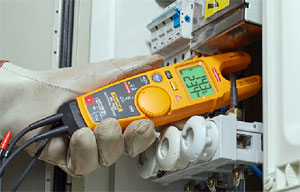 T6 Electrical Testers let you test by measuring voltage and current through the open jaw. You can measure (not just detect) voltage without making metallic contact with a live conductor.
The Fluke T6-600 is ideal for commercial and light industrial techs, as well as Electrical Contractors, Facilities Supervisors, Field Service Engineers and Utility Technicians.
| | | |
| --- | --- | --- |
| Fluke T6 Electrical Testers | T6-600 | T6-1000 |
| FieldSense Volt Measure | 600V ac | 1000V ac |
| Voltage ac/dc | 600V | 1000V |
| Current – expanded | 200A ac | 200A ac |
| True-RMS | ■ | ■ |
| 2000 Ω + Continuity | ■ | ■ |
| 100K Ω + Continuity | | ■ |
| TPAK Compatible | ■ | ■ |
| Backlight Display | ■ | ■ |
| 4/0 Wire (17.8mm/0.7") | ■ | ■ |
| Display – Single V+I (toggle) | ■ | ■ |
| Display – Dual simultaneous V+I | | ■ |
| Hz (Frequency) 45-66 Hz | | ■ |
| Available in money-saving kit with PRV240FS Proving Unit | | ■ |
Included with T6-600: attached test leads with removable 4 mm probe caps, two (2) AA batteries and Quick Reference Guide.