Fluke TI300 60HZ/FCA Ti300 a3001 FC iFlex Kit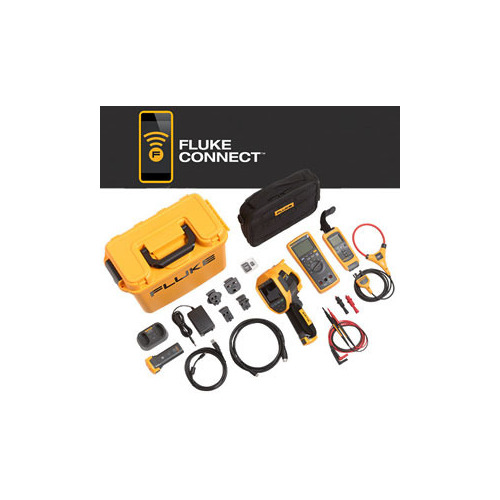 Brand:

Fluke

Condition:

New

Family Models:

TI300 60HZ/FCA

Fluke Ti300 Infrared Camera
-4°F to +1202°F (-20°C to +650°C)
240 x 180 detector, 43,200 pixels, 60 Hz
Standard and radiometric video recording
Rechargeable, field replaceable smart batteries
The Fluke a3001 FC Wireless iFlex® AC Current Module allows you to measure around awkward sized conductors or get into tight spaces for easier wire access:
Measure up to 2500 A AC
Use as a standalone meter or as part of the system
3.5 digits LCD w/backlight
Logging function for recording and saving up to 65,000 readings
Inrush function
Magnetic hanging strap
The Fluke 3000 FC Wireless Multimeter functions as the mobile hub, displaying readings from up to three module tools simultaneously from up to 20 meters:
600.0 mV to 1000 V DC or AC RMS
600 Ω
Communicate with your iOS w/ Fluke Connect mobile app
The Ti300 a3001 FC iFlex® Kit is a robust industrial kit that helps you quickly and accurately troubleshoot with ease directly from the field. Connect the a3001 FC iFlex AC Wireless Current Module to your test point and view the results up to 20 meters away on your 3000 FC DMM. The a3001 FC iFlex module allows you to measure around tight, awkward spaces and/ or sizes and makes wire access easier. Save and share inspection data from the field with your team — anytime, from anywhere only with ShareLive™ video call and get the answers and approvals you need the first time, in-real time.
The Ti300 is one of only three thermal cameras in the Fluke portfolio equipped with LaserSharp® Auto Focus for consistently in-focus images. Every. Single. Time. Without an in-focus image, temperature measurements may be off by as much as 20 degrees making is much easier to miss a problem. LaserSharp Auto Focus tells you exactly where you are focusing. It uses a laser to calculate the distance to your target before it focuses. Place the red laser dot on the equipment you are inspecting, then pull and release the trigger for a perfect in-focus image. Uptime or downtime. Your Results Matter.
Consistently in-focus images with the exclusive LaserSharp® Auto Focus system
Precisely blended visual and infrared images with the industry's only IR-Fusion® technology with AutoBlend™ mode
Micro SD memory card
Fluke Connect™ compatible — the largest network for wirelessly enabled tools
Faster communication with wireless image transfer directly to your PC, Apple iPhone or iPad
Ruggedized high resolution 640x480 capacitive touch screen for quick menu navigation
Capture additional digital images to show location or additional site details with IR-PhotoNotes™ Annotation System
More advanced display output options to get the details via streaming video to PC or high definition monitor (USB and HDMI)
Voice recording and annotation gets additional details saved with the image file
Optional interchangeable lenses for greater flexibility in additional applications
Rechargeable, field replaceable smart batteries with LED display to show charge levels for excellent field flexibility
5 MP industrial-performance digital camera for high definition image quality
Included SmartView® and SmartView Mobile App Analysis and Reporting Software
3000 FC Series Wireless Multimeter:
Fluke 3000 FC Wireless Digital Multimeter with three (3) AA batteries (installed)
One (1) a3001 FC Module with two (2) AA batteries (installed)
One (1) iFlex 10" coil
One (1) magnet/strap
TL175 Test Leads (1 pair)
AC175 Alligator Clips (1 pair)
C3003 3-compartment soft case
Information pack
a3001 FC iFlex™ Wireless Current Module:
One (1) true-RMS flexible current meter
One (1) iFlex i2500-10 flexible current probe
Measure up to 2500 A AC
Use as a standalone meter or as part of the system
Logging function for recording and saving up to 65,000 readings
Inrush function
Magnetic hanging strap