Fluke Ti450 Thermal Imager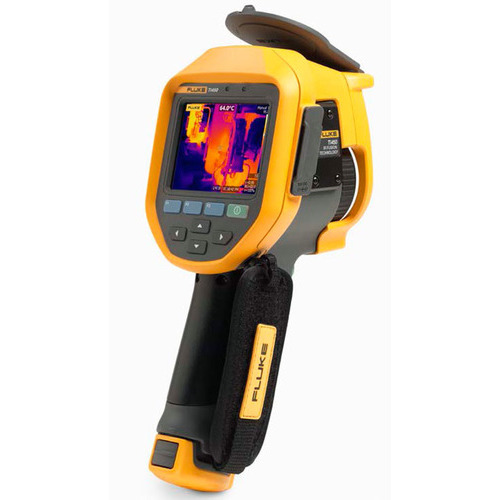 Brand:

Fluke

Condition:

New

Family Models:

FLK-Ti450 60Hz
-4°F to +2192°F (-20°C to +1200°C)
320 x 240 (76,800 px), 60 Hz
640 x 480 (307,200 px) with SuperResolution
FOV: 24° x 17°
IR-OptiFlex™ Focus System
LaserSharp™ Auto Focus
Spatial Resolution (Standard lens): 1.31 mRad; D:S 753:1
IR-PhotoNotes™ Annotation System
Multi-mode video recording
IR-Fusion® Technology
Electronic compass
interchangeable smart lenses: 2x and 4x telephoto and wide angle; no calibration required
Two-year warranty
100% focused — every object, near and far — MultiSharp™ Focus
MultiSharp™ Focus creates images focused throughout the camera's field of view. Focus is one of the most important aspects of thermography, and an out of focus image can give you data that can lead to misdiagnosis — costing you thousands. With the Fluke Ti450, worrying about focus is now obsolete. With MultiSharp™ focus, you get images automatically focused throughout the field of view, even if you start from a completely blurry target. That's because the camera takes multiple images and combines them to give you clear, accurate focus on targets near and far. Simply point and shoot.
See more detail with SuperResolution
The Ti450 features 640 x 480 SuperResolution. Now you can see even more detail with 4x the pixel data. SuperResolution captures multiple images and combines them to create a 640 x 480 image.
Save time with the Fluke Connect® system
You can wirelessly sync images directly from your camera to the Fluke Connect system, and attach to an asset record or work order. Having access to maintenance records simultaneously at the inspection site and from the office or an off-site location enables faster decision making and real time collaboration between team members. You can also live stream the camera display to your smartphone or PC and remotely control the camera.
Included with Ti450: standard infrared lens; AC power supply and battery pack charger (including universal AC adapters); two rugged lithium ion smart battery packs; USB cable; HDMI video cable; 4 GB micro SD card; rugged, hard carrying case; soft transport bag and adjustable hand strap. Also available by free download: SmartView® desktop software and user manual.