Fluke TiX500 Thermal Imager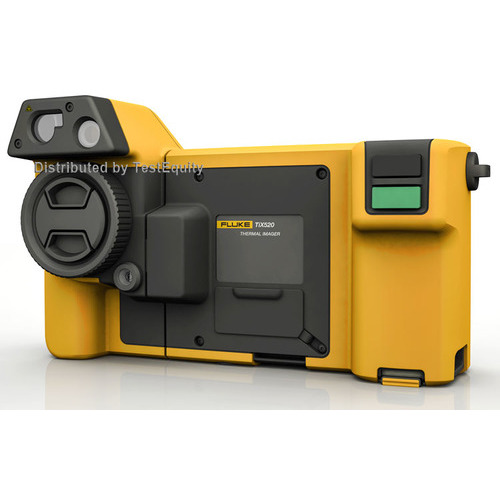 Brand:

Fluke

Condition:

New

Family Models:

FLK-TiX500 60HZ
The Fluke Expert Series

-20°C to +650°C (-4°F to +1202°F)
320 x 240 (76,800 px.) and 640 x 480 (307,200 px.) with in-camera SuperResolution Mode
60 Hz
Filter Mode (NETD Improvement): ≤0.03°C at 30°C target temp (30 mK)
Easily navigate over, under and around objects with the 180° articulating lens
The only 5.7 inch responsive touchscreen LCD in its class — 150% more viewing area
Get an in-focus image with one touch: LaserSharp® Auto Focus using a built-in laser distance meter
Image sharpening improves image clarity and quality.
Connects with the largest selection of wireless test and measurement tools with Fluke Connect™
In camera analytical capabilities
Two-year warranty
Flexible and Ergonomic Form Factor
Easily navigate over, under and around objects with the 180° articulating FlexCam lens and see the image before you capture it.
Large LCD Touchscreen
The TiX500 delivers a premium in-field viewing experience with its largest 5.7 inch responsive touchscreen LCD — 150% more viewing area than the standard 3.5-inch screen. Navigate and capture images faster with the only 5.7 inch responsive touchscreen LCD with on-camera analytics for in-field image analysis.
Brilliant Image Quality
See improved image quality and a superior level of detail with leading spatial resolution for a 320x240 resolution infrared camera. You'll experience enhanced image quality and temperature measurement accuracy when you turn your 320x240 images into 640x480 images. That's 4x the resolution and pixels with SuperResolution. Fluke SuperResolution magnifies the pixels by using the natural camera shake to create a more resolved image and provides images equivalent to 640x480 camera. Available the PC software.
Innovative Focus Options
Get an in-focus image with the touch of a button. LaserSharp® Auto Focus, exclusive to Fluke, uses a built-in laser distance meter that calculates and displays the distance to your designated target with pinpoint accuracy — 2 tools in 1.
Fluke Connect® Wireless System


See, save and share from the field and connect to the largest selection of wireless test and measurement tools with Fluke Connect™. Fluke Connect with ShareLive™ video call lets you stay in contact with your entire team without leaving the field. The Fluke Connect mobile app is available for Android™ and iOS and, works with over 20 different Fluke products — the largest suite of connected test tools in the world.
The TiX500 Thermal Imager is well-suited for use in research and development, oil and gas refineries and power utility and industrial maintenance applications.
Included with TiX-500: standard infrared lens; ac power supply and battery pack charger (including universal ac adapters); two, rugged lithium ion smart battery packs; USB cable; HDMI video cable; rugged, hard carrying case, adjustable neck and hand strap, Bluetooth headset (where available), warranty registration card and calibration certificate. Flash drive includes product manuals and SmartView® software. (Software is also available via download at fluke.com/smartviewdownload).