Fluke TiX580 Thermal Imager
Brand:

Fluke

Condition:

New

Family Models:

FLK-TiX580 60HZ
The Fluke Expert Series

640 x 480 (307,200 pixels)
SuperResolution to 1280 x 960 px
-20°C to +800°C (-4°F to +1472°F)
60 Hz and 9 Hz models
Spatial Resolution: 0.93 mRad
Fluke Connect® desktop software included
Optional pre-calibrated 2x and 4x telephoto, wide angle and 25 micron macro smart lenses
Large 5.7" touchscreen diagonal landscape color VGA (640 x 480) LCD with backlight
On-camera analytics
One-handed, easy-to-use user interface
Built-in professional-grade laser distance meter
Capture a clear, accurately-focused image throughout the field of view with MultiSharp™ Focus
IR Fusion® technology lets you easily adjust visible and infrared image blending
In-focus image with pinpoint accuracy with Fluke's LaserSharp® Auto Focus technology
Two-year warranty
Tablet-sized screen. More details. Faster decisions.
Fluke TiX580 is a superbly engineered 640 x 480 thermal imaging camera that offers four times the resolution power of previous cameras in its category. And its 5.7-inch screen provides 150% more viewing area than a standard 3.5-inch screen.
Included with the TiX580: new, easy-to-use Fluke Connect® desktop software
The TiX580 is not only Fluke Connect® compatible, but also includes the new, powerful and easy-to-use Fluke Connect desktop software to optimize and analyze infrared images, and generate quick, customizable reports. Export images to the format of your choice to share in the cloud. And you will be able to integrate with Fluke Connect — the largest system of software and wireless tools in the world.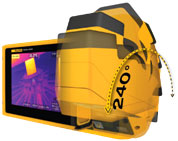 Flexible and Ergonomic Form Factor:
Easily navigate over, under and around objects with full 240° rotating lens. See the image before you capturing
Outside, the rotating screen lets you make adjustments to minimize glare, and the large 5.7 inch LCD touchscreen delivers a premium in-field viewing experience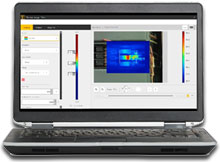 Fluke Connect desktop software features:
Compatibility with all Fluke infrared cameras
Modern visual design
Intuitive navigation — easier to learn, easier and faster to work in
Simplified work flows
Simplified reporting workflow and better report templates
Batch thermal image editing
Real time data collection with LabVIEW® and MATLAB® tool boxes for R&D applications
Fluke Connect Cloud storage
Innovative Focus Options:
Simply point and shoot to capture a clear, accurate image that's focused throughout with MultiSharp™ Focus
The camera automatically processes a stack of images focused near and far (TiX580 and Ti480)
Instantly get an in-focus image with pinpoint1 accuracy with Fluke's exclusive LaserSharp® Auto Focus technology
Included with TiX580: standard infrared lens; AC power supply and battery pack charger (including universal AC adapters); two rugged lithium ion smart battery packs; USB cable; HDMI video cable; rugged, hard carrying case; adjustable neck and hand strap; bluetooth headset.