Fluke VT02 Visual IR Thermometer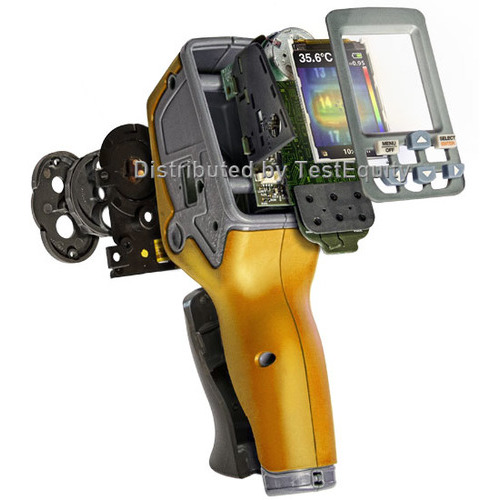 Brand:

Fluke

Condition:

Used

Family Models:

VT02
This is a discontinued product
-10°C to +250°C (14°F to 482°F) temperature measurement range
Onscreen center spot cursor easily identifies specific target of temperature reading
Hot and cold spot trackers identify issues quickly - available in visual, infrared, and blended modes
Includes SmartView® professional software for professional reports and image editing
On-screen emissivity improves accuracy across a wide range of materials
Uses 4 standard AA cell batteries for 8 hours of continuous battery life
Store up to 10,000 images on micro-SD card, easy download to PC and import into software
Utilizes breakthrough hyper-thin pyroelectric technology
20° x 20° FOV
Two-year warranty
Discontinued.
Suggested replacement:
VT04 Visual IR Thermometer
.
See Beyond Temperature
The VT02 Visual IR Thermometer combines the convenience of an infrared thermometer with the visual advantage of a thermal imager creating a brand new tool category — a troubleshooting camera with infrared heat map.
Instead of individual temperature readings, you get the complete picture instantly with a blended visual and thermal heat map of your target area — eliminating guesswork by showing the exact location of the issue.
The Fluke Visual IR Thermometer strikes the perfect balance between performance and affordability.

Hyper-thin pyroelectric innovation pushes the limit of IR technology pioneering an array dense enough to create an infrared blended heat map. The result is the missing link—the ultimate in-between tool for those times when a single temperature reading isn't enough and a high-resolution thermal image is more than you need. And because the technology is so easy to use, it doesn't require any advanced training.
Fluke VT02 Visual IR Thermometer
Measure with confidence: The VT02 gives you the visual image of exactly what you are measuring.
Detect issues instantaneously: In one blended image, you get the complete picture and can compare readings from different dates.
Troubleshoot efficiently: Compact and intuitive, the point and shoot focus-free design of the VT02 starts finding problems right out of the box with little to no training required.
Blend between thermal and visual images on camera and in included software. Captures both visual and thermal image with every pull of the trigger. Blend between 0%, 25%, 50%, 75% and 100% infrared images.
Traditional infrared thermometers only show an average temperature of an area and the farther away, the less accurate. Furthermore, the conventional IR thermometers require the tedious tasks of taking multiple grid readings and manual recording of temperature measurements. The VT02 Visual IR Thermometer is the ultimate in between tool for those times when a single infrared temperature reading is not enough and a high-resolution thermal image is more than what is needed. Compact and intuitive, the VT02 operates with focus-free simplicity for applications in Industrial maintenance, Electrical, HVAC /R, and Automotive.

With the Fluke VT02 Visual Thermometer you get the visual image of exactly what you are measuring. So whether you are an electrician, electrical contractor, HVAC, industrial maintenance, automotive, or general maintenance, the Fluke VT02 Visual Thermometer will help you measure with confidence and diagnose problems instantly.

Designed to see it all

The centerpoint temperature measurement of this image is 48.6°C (also available in °F).
The digital image shows the breaker numbers on the panel.
The thermal heat map overlay clearly identifies breaker 20 as overloaded.
With a push of a button, adjust the heat map blend for the ideal level of detail.

25% heat map
50% heat map
75% heat map

Includes: Soft Case; Micro-SD card, 4 Gb; Micro-SD conversion adaptor to standard; 4 AA batteries; Printed quick start guides (English, French, German, Spanish and Simplified Chinese). SmartView® software and the product manual are available for free download at www.fluke.com/vtsmartview and www.fluke.com/vtmanual