Fluke VT04-MAINT-KIT Visual IR Thermometer Maintenance Combo Kit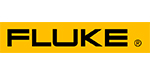 Fluke VT04-MAINT-KIT Visual IR Thermometer Maintenance Combo Kit
27075.1
MFG #: VT04-MAINT-KIT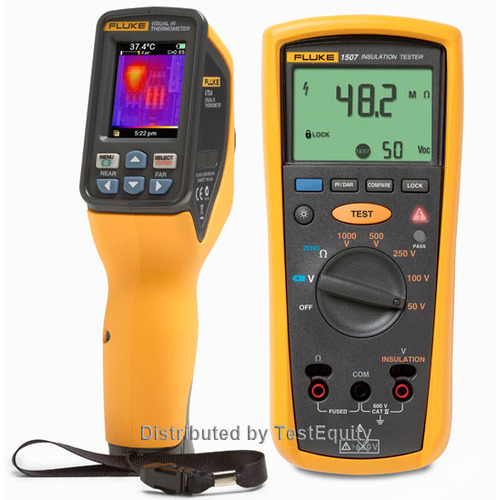 Brand:

Fluke

Condition:

New

Family Models:

FLK-VT04-MAINT-KIT
Fluke VT04 Visual IR Thermometer
PyroBlend™ Plus optics: wide field of view, sharp image
Thermal heat map overlay
Time lapse image capture
28° x 28° FOV
Built-in digital camera
Hi-Lo temperature alarm
Fluke 1507 Insulation Resistance Tester
Insulation test range: 0.01 MΩ to 10 GΩ
Insulation test voltages: 50 V, 100 V, 250 V, 500 V, 1000 V
AC/DC voltage: 0.1 V to 600 V
Resistance: 0.01 Ω to 20.00 kΩ
CAT IV 600 V overvoltage category rating
VT04 Visual IR Thermometer provides a built in digital camera with a thermal heat map overlay to detect hot and cold spots instantly. The VT04 eliminates the tedious task of recording multiple measurements manually.
Unlimited applications – See Data Sheet for powerful applications and details
Built-in digital camera – Every Fluke Visual IR Thermometer has a built-in digital camera
Exclusive thermal heat map blending overlay – With one button, blend digital images and thermal heat maps to instantly show the exact location of the issue
No training required - Fully automatic with built-in intelligence
True pocket size design – Less than half the size of an average infrared camera
SmartView® reporting software – Store up to 10,000 images per Gb on included SD card and make professional reports on included professional software
Automatic hot and cold spot trackers
Breakthrough affordability – Fraction of the cost of infrared cameras that require costly training and software
Powerful resolution with PyroBlend® Plus optics:

Best-in-class field of view: 28° x 28° (40% wider for tight spaces)
4 times sharper images

Alarm and time lapse features

Hi/Lo temperature alarm – Find hot spots in seconds with the alarm feature
Time lapse image capture – Automatically monitor equipment over time
Automated monitoring alarm – Automatically capture images after an alarm has been triggered
Fluke 1507 Insulation Tester is compact, rugged, reliable, and easy to use for professional insulation diagnostics. With its multiple test voltages, the 1507 is ideal for many troubleshooting, commissioning, and preventive maintenance applications. Additional features, like the remote probe on these tools, save both time and money when performing tests.
Insulation test range:
Insulation test voltages:

1507: 50 V, 100 V, 250 V, 500 V, 1000 V

Save both time and money with automatic calculation of Polarization Index and Dielectric Absorption Ratio
Make repetitive tests simple and easy with the 1507's Compare (Pass/Fail) function
Repetitive or hard-to-reach testing is easy with the remote test probe
Live circuit detection prevents insulation test if voltage > 30 V is detected for added user protection
Auto-discharge of capacitive voltage for added user protection
AC/DC voltage: 0.1 V to 600 V
200 mA Continuity
Resistance: 0.01 Ω to 20.00 kΩ
Save battery power with auto power off
Read measurements easily with large, backlit display
CAT IV 600 V over-voltage category rating for added user protection
Remote probe, test leads, probes and alligator clips included with each tester
Accepts optional Fluke TPAK magnetic hanging system to free your hands for other work
Our AA alkaline batteries (NEDA 15 A or IEC LR6) for at least 1000 insulation tests
VT04 Visual IR Thermometer includes: Hard Case; Micro-SD card, 4 Gb; Micro-SD conversion adapter to standard; Wall plug with worldwide adapters; USB to micro-USB cable; Printed quick start guides (English, French, German, Spanish and Simplified Chinese). SmartView® software and the product manual are available for free download at www.fluke.com/vtsmartview and www.fluke.com/vtmanual
1507 Insulation Tester includes: remote probe, test leads, test probes, alligator clips, and user documentation.