Fluke VT04A Visual IR Thermometer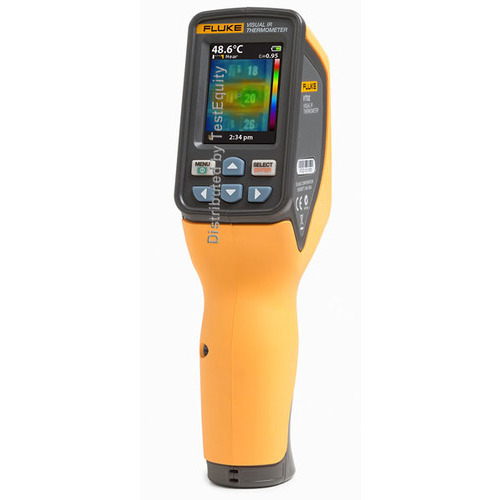 Brand:

Fluke

Condition:

New

Family Models:

FLK-VT04A GLOBAL
-10°C to +250°C (14°F to 482°F)
VT04 performance with AA battery flexibility
Visual image and infrared heat map blending
Center-point temperature and hot and cold markers
High/low temperature and Auto-monitor alarms
Pocket-size design
Intuitive interface
SmartView® reporting software
Time-lapse image capture
Fits your budget
Two-year warranty
Detect issues instantly
Eliminate the need to search spot-by-spot for temperature-related issues. Combining the visual advantage of an infrared heat map with the portability of an infrared thermometer, the Fluke VT04A Visual IR Thermometer blends a visual image with a heat map overlay, so you can instantly see temperature patterns that may indicate a potential issue.
Pocket-sized, Toolbox Ready
Small enough to fit in your pocket, intuitive enough to use right out of the box, affordable enough to outfit your entire team, the VT04A is the ideal frontline troubleshooting tool to detect and report potential issues and verify repairs have been made.
Gain confidence in what you are measuring
Unlike traditional IR thermometers that show only an average temperature of an area that could include your target's background, the VT04A shows you the exact area your measurement is based on. The blended image on the VT04A enables you to instantly identify the location of the apparent hot and cold areas on your equipment. With the VT04A, you can see in one blended image what it would have taken many measurements with a spot IR thermometer to interpret.
Get the performance you need and the features you want
The VT04A Visual IR Thermometer offers a center-point temperature measurement with a range of 10°C to +250°C, hot and cold markers that track the hottest and coldest areas in your field of view, and a heat map that shows you the temperature pattern at a glance. It is focus-free and gives you an accurately aligned blended visual image and infrared heat map when closer than 23 cm from your target on NEAR mode and beyond on FAR mode. The VT04A additionally offers temperature alarms and automated monitoring features that can alert you when a temperature is outside the expected range, enable you to monitor equipment over time, and give you insight into intermittent problems.
Designed to see it all
The centerpoint temperature measurement of this image is 48.6°C (also available in °F).
The digital image shows the breaker numbers on the panel.
The thermal heat map overlay clearly identifies breaker 20 as overloaded.
With a push of a button, adjust the heat map blend for the ideal level of detail.

25% heat map
50% heat map
75% heat map
Included: printed quick start guide, soft case, micro SD card and adapter, and 4 AA batteries. SmartView ® Software can be downloaded from Fluke without charge at www.fluke.com/vtsmartview