Hioki 3273-50 Current Probe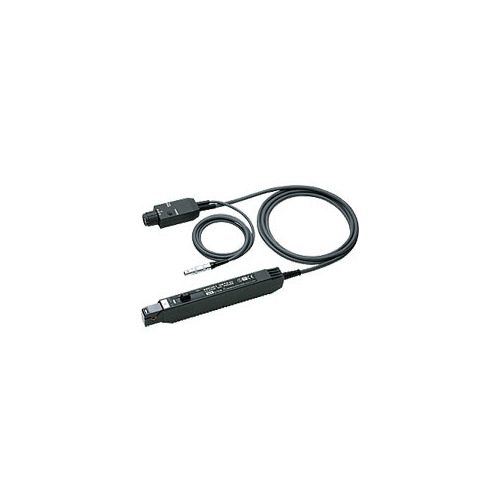 Brand:

Hioki

Condition:

New
Wide band: DC to 50 MHz (-3 dB)
High S/N characteristic enables measuring ultra low mA-range current waveforms
Connects directly to oscilloscope BNC input terminal
Connects directly to the Memory Recorder to provide waveform monitoring
An optional power supply is available for use with oscilloscopes that do not provide probe power
Supplied w/Soft case
1-Year Warranty
Wide-band current probe allows direct input to oscilloscope or the Memory Recorder.
Because current measurement requires the insertion of a shunt or a CT, the task often becomes difficult due to breaks in the electrical path. This probe only needs to be connected directly into the BNC input on waveform observation equipment such as an oscilloscope or a recorder.
Basic specifications
Frequency band width
DC to 50 MHz (-3 dB)
Rise time
=<7 ns
Noise level
2.5 mA rms max. (band width limited to 20 MHz)
Continuous allowable input
30 A rms (requires derating at frequency)
Max. allowable peak input
50 A peak (non continuous)
Amplitude accuracy
±1.0 % rdg. ±1 mV f.s. (DC, 45 to 66 Hz, 0 to 30 A rms)
±2 % rdg. (DC, 45 to 66 Hz, 30 A rms to 50 A peak)
Output rate
0.1 V/A (use with a device having a 1 M-ohm input resistance or higher)
Max. rated voltage to earth
300 V CAT I (insulated wire)
Core jaw dia.
Ø5 mm(0.20 in)
Power supply
±12 V ±0.5 V, 5.6 VA max.
Please see Data Sheet for complete specifications.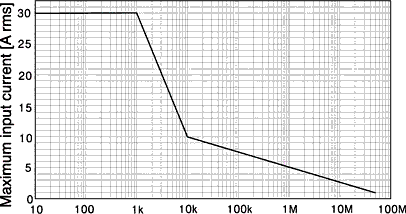 Frequency [Hz]