Hioki 3334 Power Analyzer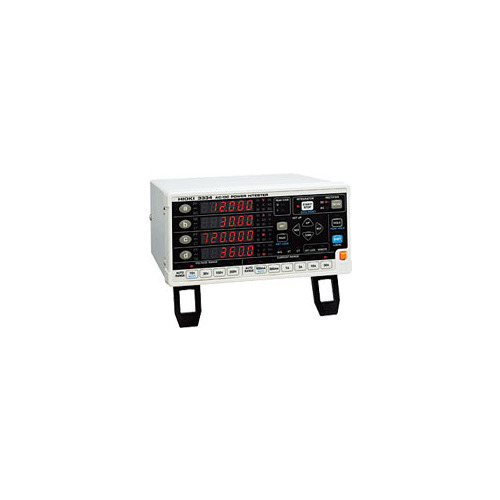 Brand:

Hioki

Condition:

New

Family Models:

3334-01
AC/DC Power Analyzer
DC measurement mode, AC, and AC+DC measurement possible
Integration function for current and power
High basic accuracy ±0.2%
Complete Accuracy Over a Wide Input Range
Equipped w/RS-232C interface. Model 3334-01 includes GPIB interface
1-Year Warranty
Solves All of your Energy Consumption Testing Needs
The 3334 is a direct-input type power meter for use with single-phase AC and DC sources. Features include integrated measurement of effective power and current, waveform peak measurement, and high-accuracy operation.

The instrument's large, easily visible LED display, which was designed for use in product development and evaluation and on production and inspection lines, can display measurement results for any four of the following characteristics: voltage, current, effective power, apparent power, power factor, frequency, current integration, effective power integration, voltage waveform peak, current waveform peak, and integration time.
Basic specifications
Measurement lines
Single-phase 2-wires
Measurement items
Voltage, Current, Active power, Apparent power, Power factor, Frequency, Integration (current, active power), Waveform peak (voltage and current)
Measurement ranges
Voltage range: AC/DC 15.000/30.00/150.00/300.0V
Current range: AC/DC 100.00/300.0 mA, 1.0000/3.000/10.000/30.00A
Power range: 1.5000 W to 9.000 kW (combination of voltage and current ranges)
Interface
RS-232C standard. Note: Model 3334-01 also includes GPIB Interface
Please see Data Sheet for complete specifications.