Hioki FT6031-03 Earth Tester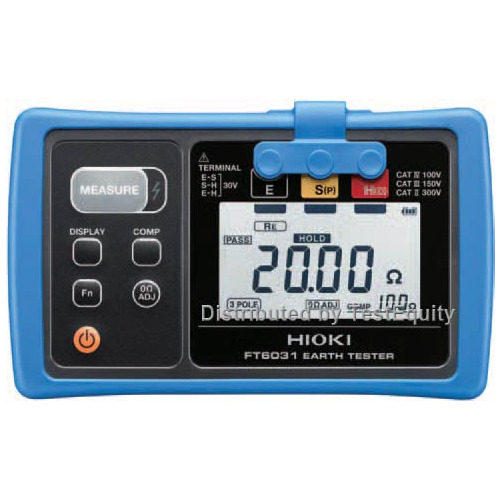 Brand:

Hioki

Condition:

New
IP67 Dustproof and Waterproof
Test all ground types from Class A to Class D with a single meter

Three-electrode measurement (Classes A – D)
Two-electrode measurement (Class D)

Wide 0 to 2000Ω measurement range
Minimize cabling time with innovative earthing rods and cable winder
IP67 protected
One-year warranty
Large, easy-to-ready display
Earthing or grounding of electrical equipment is essential to maintain safety, protecting lives, as well as prevent damage to equipment. The FT6031 is an IP67 dustproof and waterproof two- or three-pole earth resistance tester with large, easy-to-read display, highly sensitive earthing rods, and innovative cable winder that significantly reduces the amount of time needed to complete earth resistance tests.
Automatic pre-check
The FT6031-03 automatically checks the ground potential, checks the auxiliary grounding electrode, and measures the grounding resistance. The instrument also selects the optimal range for the grounding resistance, eliminating the need to switch ranges and enabling efficient measurement.