Hioki FT6380 Earth Ground Clamp Meter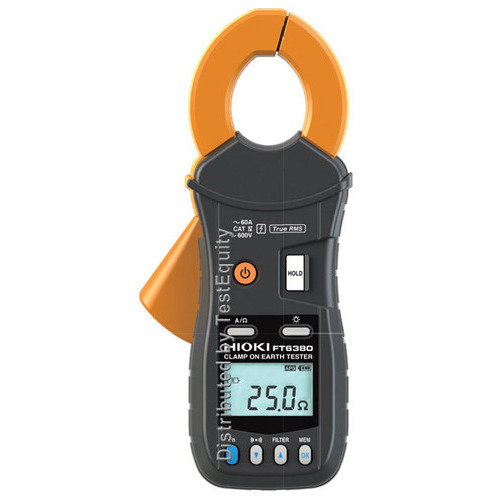 Brand:

Hioki

Condition:

New
0.02Ω to 1600Ω Measurement range Compact (50% smaller by volume) clamp-on sensor for ultimate convenience in confined locations Larger sensor grip for improved workability Low power consumption for extended use Bluetooth® wireless technology for connectivity with Android™ devices (FT6381) Onboard storage for 2,000 data points
Easy Pole Earth Resistance Measurement with Super-Slim Jaw
Untill now, grounding resistance testers have been characterized by their heavy weight and large jaws, making it difficult to attach ground wires. The Hioki FT6380 and FT6381 Earth Ground Clamp Meters have a low-profile sensor that's just 20 mm wide allowing measurement of ground wires installed in cramped spaces. And the sensor is 50% smaller by volume than others.
The FT6381 features Bluetooth® wireless technology, allowing users to display data in real time on Android™ handsets and instantaneously create reports in the field including measured values, times and dates, and position data. This technology can be used to e-mail measurement results to an administrator in a remote office in real time.
General specifications
Display
LCD, max. 2,000 count, refresh rate: approx. 2 updates/sec
Diameter of maximum measurable conductor
32 mm
Power supply
AA-size alkaline battery (LR6) × 2
Continuous operating time
Approx. 35 hours
*With backlight off and Bluetooth® off (FT6381).
Auto power-save function
Approx. 5 min. (from last operation)
Operating temperature and humidity range
-10°C to 50°C, 80% RH or less (non-condensing)
Storage temperature and humidity range
-20°C to 60°C, 80% RH or less (non-condensing, excludes batteries)
Dust and moisture protection
IP40 (EN 60529)
*With clamp-on sensor in the closed position.
Withstand voltage
7,400 Vrms AC for 1 min., applied between case and clamp-on sensor core
Please refer to Data Sheet for complete specifications
| | |
| --- | --- |
| | |
| Includes: Carrying case, resistor for verifying proper operation, strap, Two AA-size alkaline batteries (LR6), and instruction manual. | FT6381 Bluetooth Data transfer to Android™ |