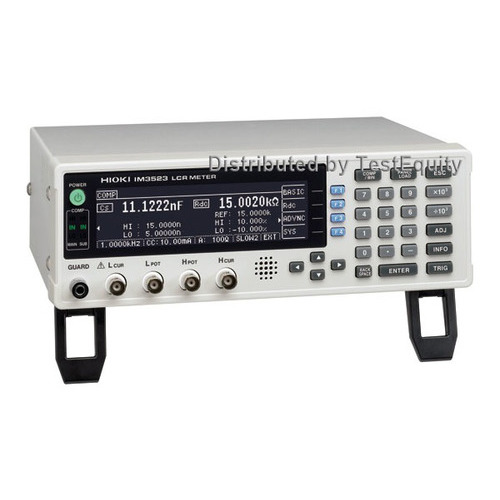 Brand:

Hioki

Condition:

New
A single device that performs measurements at high speed under multiple conditions - (C-D + ESR measurement and L + DCR measurement) Optimal measurement conditions can be set automatically according to the test sample so switching between setups is a snap Reliable and accurate measurements
Reduce Inspection and Management Costs on Production Lines
The Hioki IM3523 is a cost-effective LCR tester that provides high-performance and improved functionality; such as a wide-measurement of frequency range from 40 Hz to 200 kHz, high-speed measurement of up to 2 ms, and highly reliable measurement using the contact-check function. This LCR meter has a wide-range of applications — from production lines to research and development.
Basic Specifications
Model
IM3523
IM3533
IM3533-01
Usage
LCR component prod.
Transformer and coil production
Research and development
Basic accuracy
±0.08%rdg.
±0.08%rdg.
±0.05%rdg.
Measurement frequency
40Hz to 200kHz
1mHz to 200kHz
Measurement signal level (V/CV)
5mV to 5V
5mV to 5V/2.5V
Measurement time
2ms
Cable length
0m/1m
0m/1m/2m/4m
Display
Monochrome LCD
Color TFT 5.7-inch LCD, touch panel
Please refer to Data Sheet for complete specifications.
Test fixtures are not supplied with the unit. Please select an optional test fixture or probe as needed.