Hioki IM3590 Chemical Impedance Analyzer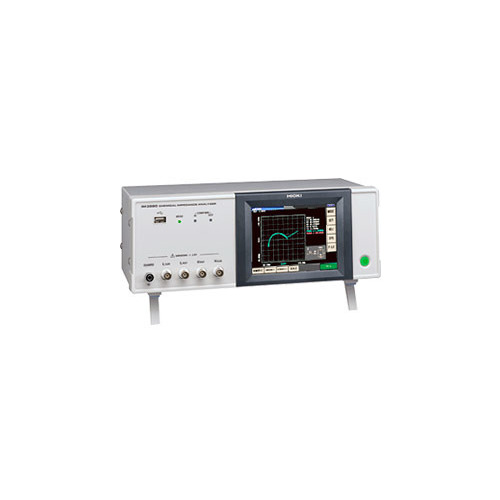 Brand:

Hioki

Condition:

New
Basic accuracy of ±0.05% Broad measurement frequency range: 1 mHz to 200 kHz and DC High-speed measurement at up to 2 ms Cole-Cole plot display Support for 18 measurement parameters Electrochemical material and component equivalent circuit analysis One-year warranty
Ideal for Measuring Electrochemical Impedance
Designed for use in the electrochemical field with materials and components used in devices such as primary and rechargeable batteries, fuel cells, and electric double layer capacitors and to test corrosion and anti-corrosion properties as well as surface treatments such as electroplating, the IM3590 is particularly well-suited to characteristic analysis in research and development thanks to functions such as Cole-Cole plot1 generation and equivalent circuit analysis. These capabilities allow the instrument to be used with electrochemical targets to measure characteristics that are invisible to the eye. It delivers basic accuracy of ±0.05%, measurement frequencies from 1 MHz to 200 kHz, and measurement speeds as fast as 2 ms.
Principal Specifications
| | |
| --- | --- |
| Measurement parameters | Z, Y, q, Rs, Rp, X, G, B, Ls, Lp, Cs, Cp, Q, D, DCR, s, e, T |
| Measurement ranges | 100 mΩ to 100 MΩ 10 ranges (All parameters are determined according to Z.) |
| Basic accuracy | ±0.05% rdg. |
| Measurement frequency | 1 mHz to 200 kHz |
| Measurement voltage | 5 mV to 5 V/2.5 V* |
| Measurement time | 2 ms (representative value) |
| Comparator | HI/IN/LO, ABS/%/D% for two parameters |
| BIN measurement | 10 categories for two parameters |
Please refer to Data Sheet for complete specifications.
Includes: Power Cord, Instruction Manual, CD-R with Communication Instruction Manual and Sample Software. Test fixtures are not supplied.