Hioki LR8410-20 Wireless Logging Station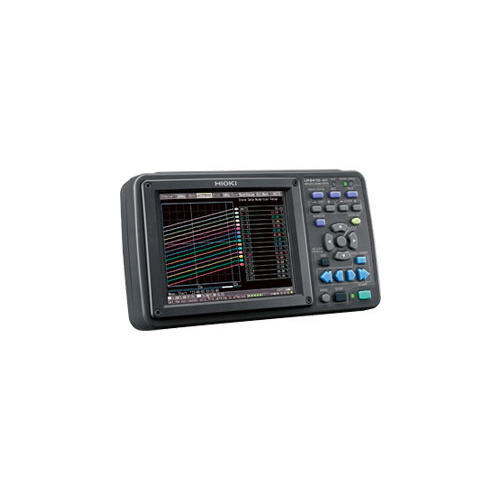 Brand:

Hioki

Condition:

New
Multi-channel wireless logger with Bluetooth® technology
Wireless gathering of multichannel measurement data
One LR8410-20 gathers data from up to seven Wireless Measurement Units (105 channels total)
LR8510 Wireless Voltage/Temperature Unit can accommodate 15 channels of Voltage or Temperature (thermocouple) measurements.
LR5811 Wireless Universal Unit can accommodate 15 channels of Voltage, Temperature (thermocouple or RTD sensors), Humidity (with optional sensor), or Resistance measurements.
Easy setup with the Quick Set Navigator
Wire lengths are reduced and wiring complexity is eliminated
Store data on the included SD memory card or optional USB storage
Can record data in real-time to a connected computer
Captures Multipoint Data from 105 Points Wirelessly
LR8410-20 Wireless Logging Station captures data from remotely installed logging modules wirelessly. Two types of logging modules provide measurement and recording capabilities for voltage, temperature, resistance, and humidity data. Each station can control up to seven logging modules (for a total of 105 channels), and data is logged using a high-speed sampling process that scans all channels every 100 ms. Wireless technology makes it possible to log over 100 channels of data in applications where it would be difficult to use a conventional logger, such as high locations where wiring would be difficult or inside secured control panels. Since the logging modules can be placed right next to the system to be measured, long wires and connection complexities are minimized.
The LR8410-20's Bluetooth® wireless technology allows it to gather data from measurement units in remote locations (with a range of up to 30 meters, line-of-sight). One LR8410-20 can control up to seven 15-channel logging modules. As a result, the instrument can gather a maximum of 105 channels of data at a recording interval of 100 ms (1/10 sec.).
The LR8410-20 is a new data logger based on wireless measurement units that measure data, and a separate logging station that gathers measurement data, making it ideal for those working in the automotive, environmental, and new energy fields. The LR8410-20 requires less wiring, reducing the effects of such measurement environment characteristics as noise and improving measurement efficiency. Additionally, in enabling data to be gathered from multiple remote locations at once, these new products make it possible to take measurements that are part of the same time-series.
An optional measurement unit is required. Both offer 15 channels of input in a single unit and send measured data to the LR8410-20 wirelessly. Units feature three-way power so that they can use an AC Adapter (included), Battery Pack (optional), or DC power supply.
The LR8510 Wireless Voltage/Temperature Unit has 2 terminals for each channel (M-3 mm screw type), and can accommodate 15 channels of Voltage or Temperature (thermocouple) measurements.
The LR5811 Wireless Universal Unit has 4 terminals (push-button type) for each channel, and can accommodate 15 channels of Voltage, Temperature (thermocouple or RTD sensors), Humidity (with optional sensor), or Resistance measurements.

LR8410-20 includes: Instruction manual, measurement guide, 1 USB cable, CD with "Logger Utility" data collection software, Z1008 AC adapter and Z4001 SD memory card (2 GB).