Hioki LR8432-20 Heat Flow Logger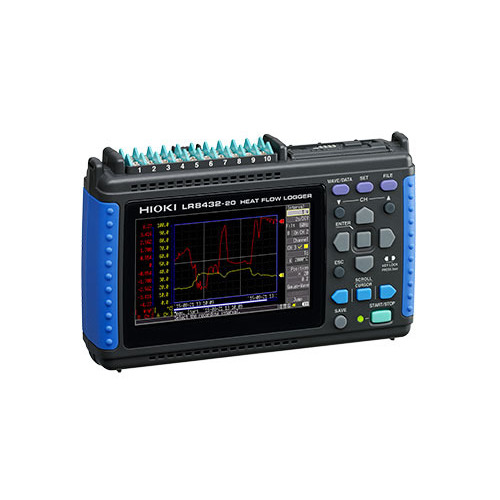 Brand:

Hioki

Condition:

New
Use a heat flow sensor (optional) to measure the movement and volume of heat energy
Measure of temperature and voltage
Record measurement data on a USB flash drive for easy transfer to a computer
Record to reliable Compact Flash cards during long-term measurement applications for increased peace of mind
Ten isolated analog input channels
10 ms sampling and recording across all channels
Waveform calculation (moving average etc.) is possible in real time
Two graduations can be displayed with a double gauge
Hioki Memory HiLoggers are high-speed data loggers for recording multiple chanels of voltage, temperature, pulse or rotation signals, providing complete isolation between channels and strong noise resistance. The Hioki LR8432 is a handheld 10-channel data logger especially designed for heat flow measurement. The Heat Flow Logger is ideal for evaluating insulation performance and analyzing the causes of temperature change.
Includes: Measurement Guide; CD with Instruction manual PDF, Logger Utility Instruction Manual PDF, Data acquisition application program Logger Utility; USB cable; AC Adapter Z1005.
Note: The LR8432-20 is not bundled with the Battery Pack 9780. Thermocouples are not provided by HIOKI or TestEquity, and must be purchased from a separate vendor. Use only HIOKI CF cards, which are manufactured to strict industrial standards, for long-term storage of important data. Correct operation of non-HIOKI CF cards or USB memory sticks is not guaranteed.