Hioki PR8112 Pen Recorder
Hioki PR8112 Pen Recorder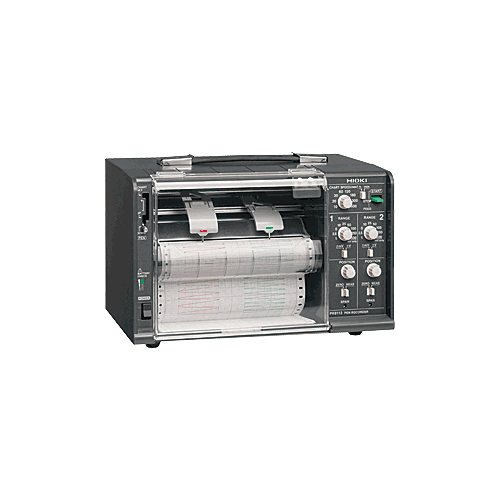 Manufacturer:

Hioki

Condition:

New

TestEquity Part #:

25637.1

Manufacturer Part #:

PR8112

Meta Description:

If you are searching for a Hioki PR8112 Pen Recorder, TestEquity can provide the solution you need. We carry the best electronic test & measurement solutions from top manufacturers.
Easily portable, Compact size Support for three power sources. Can be powered with D-size batteries Outdoor-ready, Ships with a drip-proof cover Pen-based, Records data reliably Easy to use, simple operation PR8111 (1-pen model) PR8112 (2-pen model)Basic specifications: (1 year accuracy)

PR8111
PR8112
No. of pens
1 pen
2 pens
Operating method
Self-balancing, Disposable felt pen recording
Input
DC Voltage (Isolated input channels, isolated input and frame)
Measurement ranges
±1 mV to 500 mV (9 ranges), ±1 V to 250 V (8 ranges)
Max. allowable input
250 V DC (at V range), 30 V DC (at mV range)
Max. rated voltage to earth: 300 V DC, AC
Recording accuracy
±0.5 % of effective recording width (excluding contraction and expansion of recording paper)
Recording width
150 mm (5.91 in)
Pen interval
5 mm (0.20 in)
Pen speed
500 mm/s or greater (using AC adapter)
Chart speed
10 mm/min to 600 mm/min (8 ranges), 10 mm/hr to 600 mm/hr (8 ranges)
Accuracy: ±0.25 % (at 500 mm or higher continuous recording)
Recording paper
Fanfold plain paper: SE-10Z-2, length: 15 m (49.22 ft)
Roll plain paper: SE-10, length: 20 m (65.62 ft)
Power supply
(1) AC ADAPTER 9418-15 (100 to 240 V, 50/60 Hz)
(2) D size alkaline battery (LR20) × 6 (When used with the AC adapter, the adapter takes precedence)
(3) DC power supply: 10 to 27 V DC (cable available by special order)
Continuous use time
50 hr (based on in-house testing conditions, use LR20 batteries)
25 hr (based on in-house testing conditions, use LR20 batteries)
Please see Data Sheet for complete specifications.
Includes: Pen(s), Recording Paper, AC Adaptor, Drip-proof cover, Manual.