Instek GDS-1052-U Digital Storage Oscilloscope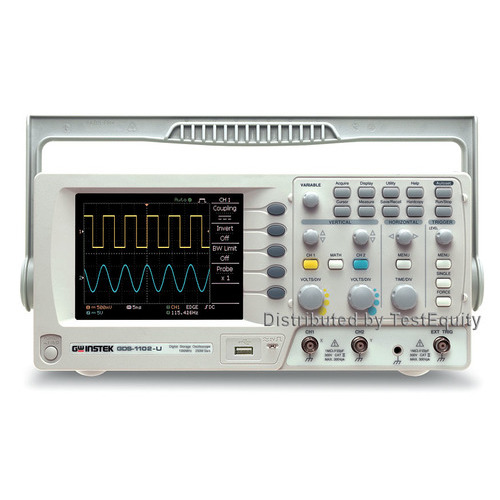 Brand:

Instek

Condition:

New

Family Models:

GDS-1052-U

Discontinued:

Yes
50 MHz Bandwidth
2 Input Channels
250MSa/s Real-Time and 25GSa/s Equivalent-Time Sampling
4k Memory Length per Channel
Peak Detect as Fast as 10ns
Save/Recall of 15 Front Panel Settings & Waveforms
5.7" TFT Color Display
19 Auto Measurements
Arithmetic Operators - Add, Subtract, FFT
USB Port for PC Connection
Data Logger
Limited Lifetime Warranty
The GDS-1052-U is a 50MHz, 2-Channel digital storage oscilloscope with a 5.7" color TFT LCD display. Its dual sampling modes, 4,000 point record length, real-time sampling rate of 250MSa/s and an ET sampling rate of 25GSa/s provide an excellent balance of performance between memory length and sampling speed. Other major features include user-friendly menu tree operations, compact size, ergonomic design, USB host for PC connectivity and USB device port support. The GDS-1052-U is designed to meet today's most demanding engineering requirements and budgets.
USB Interface & Data Logger
The USB Host port on the front significantly enhance the data storage capability of the product. The large amount of data, including screenshot, waveform and panel setup, could be easily stored into a popular flash disk. A USB device port on the rear of the product transfers the screen image and waveform raw data to PC — and also allows your PC to remotely control the GDS-1052-U DSO.
Waveform Saving and Automatic Measurement
A total of 15 waveforms can be saved into memory to be displayed at a later time. Two saved reference waveforms and two live waveforms can be compared on the screen at the same time. All signal time and voltage related measurements can be shown on the screen simultaneously in real-time via the Measure key press.
Enhanced Calibration Signal Output
The GDS-1052-U has an enhanced 1kHz calibration signal. Its output frequency is adjustable from 1 kHz to 100 kHz and has an adjustable duty cycle of 5% to 95%. Due to the flexible output, the calibration output can also be used as a basic signal generator for other applications.
Autoset Disable Function
For educational purposes, instructors might not want to use the Autoset function on the DSO when they are teaching how to use oscilloscopes. On the GDS-1000-U Series, the Autoset function can be disabled, allowing students to manually operate the oscilloscope functions to further enrich their learning experience.
Includes: User's manual, Power Cord, Probe-GTP-070A-4: 70MHz (10:1/1:1) Switchable Passive Probe (one per channel)
Visit the Instek GDS-1000-U Series Digital Storage Oscilloscopes product page for additional information.