Instek GDS-1152A-U Digital Storage Oscilloscope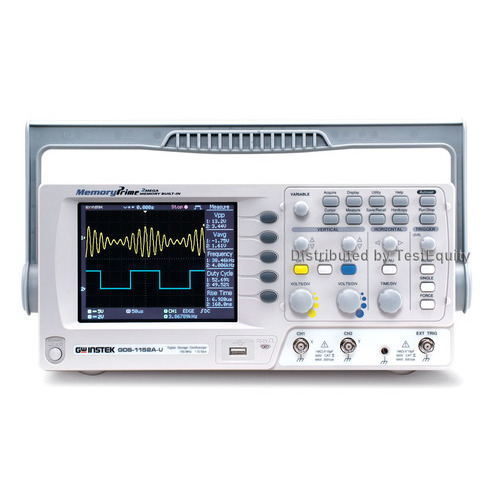 Brand:

Instek

Condition:

New
150 and 100 MHz Bandwidths with 2 Input Channels
1GSa/s Real-Time Sample Rates Maximum, 25GSa/s Equivalent-Time
2Mega Points Record Length
2mV to 10V Vertical Scale
1ns to 50s Horizontal Range
Up to 27 Automatic Measurements
5.7" TFT LCD Display
USB Host and Device Interface Supported
Go/NoGo Function
Data Logger
Limited Lifetime Warranty
The GDS-1000A-U series, including 150MHz and 100MHz models, provides a unique and affordable solution for high sampling and long memory applications. The GDS-1000A-U series, carrying a real-time sampling rate of 1GSa/s and 2M point record length, is among the most outstanding-specification product in the entry level DSO field.
GDS-1000A-U Series Digital Storage Oscilloscopes
| | GDS-1102A-U | GDS-1152A-U |
| --- | --- | --- |
| Channels | 2 | 2 |
| Bandwidth | DC to 100MHz (-3dB) | DC to 150MHz (-3dB) |
| Rise Time | <3.5ns Approx. | <2.3ns Approx. |
Please refer to the Data Sheet for complete specifications
In addition to traditional functions, the models in the GDS-1000A-U series series boast several new features.
MemoryPrime Technology
The GDS-1000A-U series, with MemoryPrime technology backbone, leverages the 1GSa/s high sampling rate and the 2M pt. long memory to overcome the problems associated with memory constraints. Utilizing MemoryPrime technology, the GDS-1000A series is able to acquire single-shot and fast-varying waveform, and display the waveform details truthfully on the screen.
PictBridge Printer Supported
The GDS-1000A-U series oscilloscopes are among the few DSOs currently on the market that can provide complete remote control or data capture over an USB interface. The GDS-1000A-U Series also supports PictBridge, allowing you to print directly to your printer without complex configuration. After connecting to a PictBridge compatible printer with an USB cable, printing is as easy as pressing a button.
Fast Horizontal Position Mark and Search
MemoryPrime technology allows a maximum of 2M points of waveform data. For engineers, analyzing a considerable amount of data can be an extremely challenging task. To assist engineers to analyze waveforms more quickly, we provide Horizontal Page Skip and Set Time Mark functions, letting engineers take full advantage of the 2M memory depth.
Auto Measurement Gating
A built-in Autoset function on a digital oscilloscope gives engineers remarkable convenience. With the complexities of product features, traditional auto measurement information is inadequate for modern measurement needs. The new Cursor Gating feature allows you to mark an area with cursors for auto measurement.
Flexible Probe Factor Setting
There is a diverse range of test probes currently on the market such as passive, differential, and electrical probes. The attenuation ratio of each probe type also differs greatly. To ensure compatibility, probe attenuation ratios of 0.1X to 2000X as well as voltage and current probes are supported by the GDS-1000A-U.
Features like the high resolution 5.7" color TFT display, user-friendly human interface, and USB device and host ports make the GDS-1000A-U series a feature-rich DSO.
Includes:
User's manual
Power Cord
Probes (one per channel):

Probe GTP-070A-4 or equivalent: 70MHz (10:1/1:1) Switchable Passive Probe (GDS-1072A-U)
Probe GTP-100A-4: 100MHz (10:1/1:1) Switchable Passive Probe (GDS-1102A-U)
Probe GTP-150A-2 or equivalent: 150MHz (10:1/1:1) Switchable Passive Probe (GDS-1152A-U)