Instek GOM-804 DC Milliohm Meter
Instek GOM-804 DC Milliohm Meter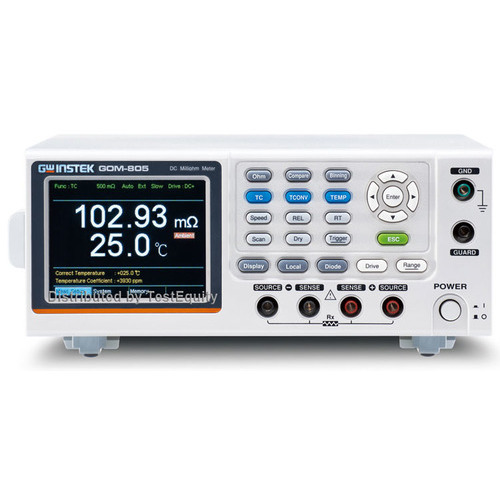 Manufacturer:

Instek

Condition:

New

TestEquity Part #:

24937.1

Manufacturer Part #:

GOM-804

Meta Description:

Explore our options for a Instek GOM-804 DC Milliohm Meter. With various sizes and selections, you are sure to find the perfect solution at TestEquity.
50,000 count, 3.5" TFT LCR display
Independent function and direction keys
High Accuracy of 0.05% precision
1 A test current, 1?? resolution
Ground/Guard terminals eliminate measurement noise
Four-wire measurement terminal
Fast measurement of 60 readings/sec
Temperature compensation measurement w/ probe port
Dry Circuit test (GOM-805)
Drive modes: DC+/DC-, Pulsed, PWM, Zero (GOM-805)
Interface: USB device, RS-232C, Handler/Scan/Ext I/O; GPIB included with GOM-804GP and GOM-805 only
Warranty: 2 Years on Instrument, 1 Year on LCD display
GW Instek's GOM-804 and GOM-805 DC Milliohm meters feature a 3.5" TFT LCD 50,000 count display, rapid 60 readings/sec, and 0.05% measurement accuracy in addition to independent function keys and intuitive control for convenience and operation speed. The GOM-805 includes various drive modes and Dry Circuit test as well as 20 sets of panel memory and external control interfaces.
The GOM-805 provides Dry Circuit and various drive modes (DC+, DC-, Pulsed, PWM) for measuring various materials. The pulsed current output mode is suitable for interacting with conductors of different materials and can reduce the thermal EMF influence. The DC+ and DC- output modes are best for the measurement requirements of inductive components. The PWM output mode, ideal for changing temperature-sensitive materials, can avoid resistance value variation due to a lengthy overload duration. Dry Circuit can limit the applied voltage to avoid an over-voltage situation which can damage the oxide coating and the thin layer of contact surface.
The GOM-804 and GOM-805 provide a D-sub 25-pin interface to connect to a sorting machine, external on-off switch, or external trigger control. For remote control operation and measurement retrieval, RS-232C, USB, and GPIB (optional w/ GOM-804, standard w/ GOM-805) are included.
The GOM-804 offers advances from Instek's earlier GOM-802 platform including increased display digits, measurement speed and standard interface (RS-232C/USB). Additionally, the GOM-805 adds new measurement abilities (Dry circuit and various drive modes) to meet the requirements of broader low resistance measurement applications.
Included with GOM-804/GOM-805: User Manual on CD, Quick Start Guide, Programming Manual, Power Cord, Output terminal cover, Type A-B USB Cable (GTL-246), Analog connector plug set (GTL-308) and Chassis connection wire.