Instek GPI-825 Hipot Tester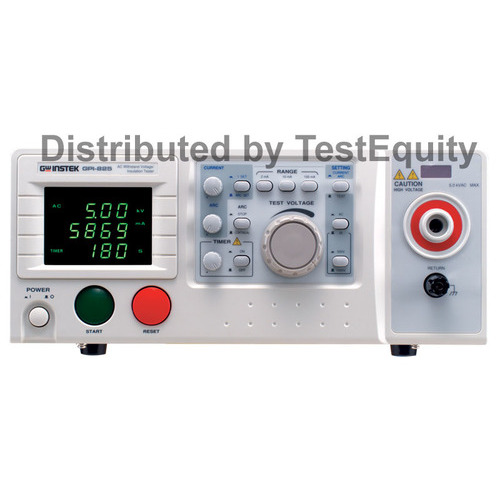 Brand:

Instek

Condition:

Used

Family Models:

GPI-825, GPI-826, GPT-805, GPT-815
This is a discontinued product
500 VA AC Output (100 VA on GPI-826)
0.1 to 5 kV AC (all models)
0.1 to 5 kV DC (GPT-815)
Insulation Resistance (GPI-825, -826)
True RMS Current Readback
Test Time 1 to 180 Sec or Continuous
Arc Detection
3 Ranges of Adjustable Out Off Current
Simultaneous Digital Display for Voltage, Current and Timer
Zero Turn-On Operating Switch (GPT-805, -815, GPI-825)
Automatic FAIL Indicator with Alarm Lamp and Buzzer
9-Pin Remote Control for START, RESET
Voltage Output Adjustable During Test Period
2-Year Warranty
The GPT/GPI-800 Series Electrical Safety Testers offer an economic solution for the most frequently used electrical safety requirement, AC Withstanding test. The GPT/GPI-800 Series provide a reliable and accurate test environment for the operator through a number of safety-oriented features, for instance zero turn-on switch, remote control function, and PASS/FAIL signal output.
In addition to the basic AC Withstanding (AC Hipot) test, the GPT-815 features DC Withstanding (DC Hipot) test.
The GPI-825/826 adds Insulation Resistance test.
500 VA of AC capacity is possible with the GPT-805/815 & GPI-825, giving ample headroom for testing a wide range of electrical equipment and components.
Function
Model
OUTPUT
AC
DC
IR
GPT-805
500VA
V
GPT-815
500VA
V
V
GPI-825
500VA
V
V
GPI-826
100VA
V
V