Instek GPS-4303 Quad Output Power Supply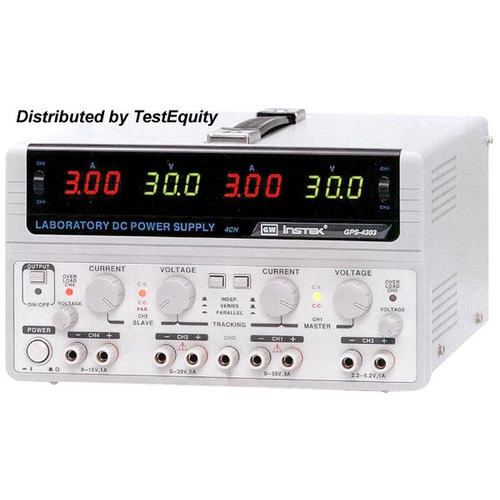 Brand:

Instek

Condition:

New

Watts:

200

Meta Keywords:

testequity, gwinstek, instek, quad output, power supply, quad output power supply
Check out the newer model GPE-4323 for better value, higher resolution, and superior functionality.
4 Independent Isolated Output
Main Outputs: 0-30V, 0-3A (X2)
Output 3: 2.2 to 5.2V, 1A
Output 4: 8 to 15V, 1A
Four 3-Digit LED Displays
0.01% Load and Line Regulation
Low Ripple and Noise
Tracking Operation and Auto Series/Parallel Operation
Output ON/OFF Switch
Output Voltage and Current Setting When Output Disable
Fan Speed Control Circuit to Minimize Fan Noise
Over Load and Reverse Polarity Protection
The Instek GPS-Multi is one of the most unique and versatile low-cost power supply series available today. For the price of what you might expect to pay for a single output, they give you up to FOUR isolated and adjustable outputs!
The two main outputs are independently adjustable from 0 to 30 V for constant voltage mode, and 0 to 3 A for constant current mode. They can also be operated in series (for 0 to 60 V or 0 to ±30 V at 0-3 A) or parallel (for 0 to 30 V, 0 to 6 A) tracking modes.
The quad-output GPS-4303 features two auxiliary outputs; 2.2 V to 5.2 V and 8 V to 15 V, each with a fixed 1 A current limit.
Four LED meters provide two sets of simultaneous voltage and current display, selectable for all 4 outputs.
Includes manual, power cord and alligator test leads for each output.