Instek GPT-9601 AC Withstanding Voltage Tester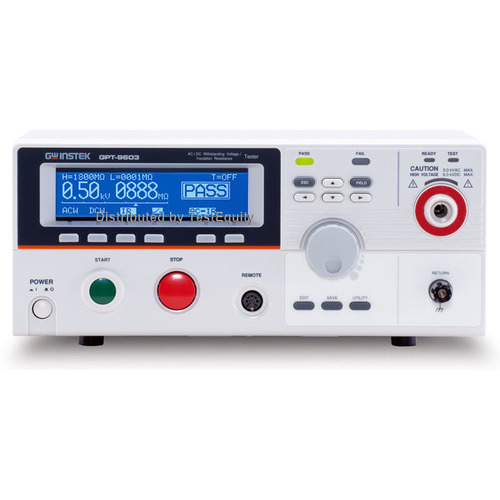 Brand:

Instek

Condition:

New
5 kV AC, 20 mA, 100 VA AC
240 x 48 Ice Blue Dot Matrix LCD
True RMS Current Measurement
Zero Crossing Turn-on Operation
Safety INTERLOCK Function
PWM Switching Amplifier to Enhance the Power Efficiency and Reliable Testing
Automatically Switching Input Source for Universal Input Voltage
Interface: Remote Terminal, Signal I/O
Two-year warranty
The GPT-9601 performs AC withstanding tests, and is equipped with a high-efficiency PWM amplifier. This is the core of the platform, and is designed to impede the influence from the input AC voltage fluctuation, and ensure a stable voltage output.
The GPT-9601 delivers an intuitive operation environment by a simple and clear panel layout, a large LCD display and color LED indicators. The switching power supply, used as a universal input source, accommodates the power systems in most countries in the world. Unlike other GW Instek Safety Testers, the GPT-9601 uses a preset output voltage bar to indicate the expected output voltage for withstanding voltage tests instead of the traditional AC slide operation and indication.
Other functions and features of the GPT-9601 include: the zero crossing turn-on operation which protects DUT from the impact of surge voltage output, the interlock function safeguards users from the hazardous shock of unintentional touch of the voltage output, a remote output on-off terminal in the front panel and a signal I/O port in the rear panel are provided as the means for remote start/stop control of the safety tester.
Applications:
Information tech. equipment testing
Consumer Products
R.L.C component
Other tests with AC/DC withstanding testing lower than 20mAac or 5mAdc cut-off current
Included: Quick Start Guide on CD, power cord, interlock key, remote terminal male plug and one (1) GHT-114 test lead.
Visit the Instek GPT-9600 Series product page for additional information. >>