Instek GSP-810 Spectrum Analyzer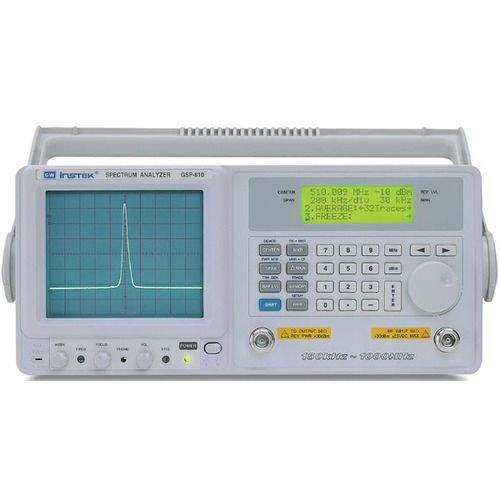 Brand:

Instek

Condition:

Used

Discontinued:

Yes
This is a discontinued product
Frequency Range 150 kHz to 1 GHz
RBW 3 kHz, 30 kHz, 220 kHz, 4 MHz
Reference Level Range -30 dBm to +20 dBm
Low Noise Floor Performance -95dBm @ 30 kHz, -100 dBm typical; over -150 dBm/Hz typical @ 220kHz and 4 MHz RBW
Spurious Noise < -60 dB
Two Markers for Absolute and Relative Measurement
Max Hold, Average (2 to 32 traces), Freeze, Peak Search, Marker to Center
9 Save/Recal Memories
FM/AM Demodulator with Internal Speaker
RS-232 Interface and PC Display Software
Optional Internal 2 GHz Power Meter and 1 GHz Tracking Generator
Great for Hobbyist and Educational Use
2-Year Warranty
The Instek GSP-810 is a digital-synthesized, easy to use spectrum analyzer with a frequency range to 1 GHz. It combines a phase-locked loop RF system for high quality measurements and performance at an affordable price.
Operation is easy. All of the primary controls have a single push button to access, and the rotary knob makes selections fast. The GSP-810 includes an RS-232C interface and Windows software for display, saving and printing on your PC.
HIGH PERFORMANCE
Frequency Stability ( ± 10 PPM) - Digital phase locked techniques allow GSP-810 provides the high frequency stability ( ± 10 ppm) to ensure the drift-free frequency display.
Frequency Resolution 1 kHz, Span 2 kHz/Div and RBW 3kHz - The GSP-810's narrow span allows you to see details like narrow band spectral sidebands or small deviation FM modulation.
Low Noise Floor - GSP-810 can display the signal levels as low as -100 dBm ( -95 dBm @ 30 kHz dBm, -100 dBm typical).
Wide Input Power Range - GSP-810 offers wide dynamic range from -100 dBm to +20 dBm.
FM/AM Demodulator - With the FM/AM demodulator, GSP-810 is able to monitor the audio signal using the internal speaker or earphone.
High Power Protection - To prevent damage from an accidental high power input, the GSP-810 offers a safety input range up to +30 dBm.
USER-FRIENDLY
Display Information - You can read all relevant data including span , RBW, frequency (relative and absolute) and amplitude (relative & absolute) on the same LCD display.
Dual Markers -Two markers to allow your measurements to be displayed as absolute or as relative levels on the LCD screen.
Search for Peak and Peak to Center - Search for the next right peak signal and move it to the center of the screen with just two key presses.
Hold, Max Hold, Average, Numeric Entry and Set-Up Memory - All these functions are designed to make accurate measurements easy and fast.
RS-232C Interface - With the included software, you can download screen information via RS-232C to your PC. Great for creating reports in popular word processing programs and spreadsheets.
OPTIONS
Tracking Generator - With the internal tracking generator, the GSP-810 enables you to measure the characteristics of the device under test, such as filter or RF power amplifier. In addition, it provides normalization to calibrate out the gains and losses in cables and other device under test.
Power Meter - With the power meter, GSP-810 can measure the total power of an input signal with the unit of mW or dBm.