Instek GSP-9300TG Spectrum Analyzer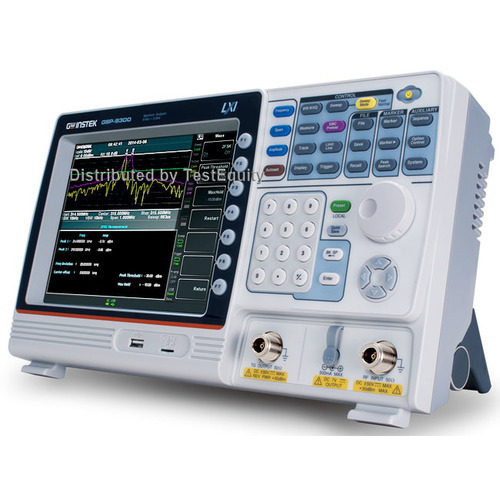 Brand:

Instek

Condition:

New

Family Models:

GSP-9300, GSP-9300TG

Discontinued:

Yes
Frequency range: 9 kHz to 3 GHz
DANL: -142 dBm w/pre-amp on
RBW: 1 Hz to 1 MHz in 1-3-10 sequence
Sensitivity up to -152 dBm (1Hz)
Sweep time up to 307 usec
8.4" color display 800x600 resolution
Weight < 9lbs.
Unique Topographic & Spectrogram Display Modes
2FSK Analysis, EMC Pretest
P1dB point measurement
LAN (LXI), USB, RS-232 standard, GPIB optional
SpectrumShot Software, IVI Driver, Remote Control APP Pass/Fail Test with Alarm output
On-Screen Help
Two-year warranty on instrument, one-year on LCD display
5th-Generation Spectrum Analyzer
The GSP-9300 is a light, compact 3 GHz spectrum analyzer with high C/P ratio. The GSP-9300 frequency range stretches from 9 kHz to 3 GHz and features many functions such as radio frequency and power measurement, 2FSK digital communications analysis, EMC pretest mode, and active component P1dB point measurement, etc. It can support the fast sweep speed up to 307 usec.
GSP-9300 spectrum analyzer, with the built-in preamplifier and the highest sensitivity of -152 dBm (1 Hz), is capable of measuring very feeble signals. To obtain the accurate results, the low power measurement uncertainty of GSP-9300 is less than 1.5dB.
The built-in measurement functions of GSP-9300 spectrum analyzer include 2FSK digital communications analysis, AM/FM/ASK/FSK signal demodulation & analysis, EMC pretest mode, Harmonic Distortion, TOI, Channel Power, OCBW, ACPR, SEM, Phase Jitter, N-dB Bandwidth, Noise Marker, Frequency Counter, and Time Domain power measurement for burst signal, etc.
The GSP-9300TG with built-in tracking generator provides supplementary functions such as measuring the insertion loss of RF cable and identifying the frequency response of antenna, filter or amplifier. The P1dB measurement function supports power sweep and P1dB compression point of active component's. It supports 6.2 GHz power sensor PWS-06. And, via the power meter mode, you can conduct related measurement applications without using an independent power meter.
You can use the external software SpectrumShot for EMI test report management and assessment, remote control and waveform data recording for long periods of time. SpectrumShot can be applied to spectrum monitoring for detecting any abnormal radio signals. The software will notify you of any abnormal situations.
Measuring 8.27" high and 13.8" wide, GSP-9300 is suitable for automatic test systems. It can be mounted on the 19" 6U rack. It is ideal for vehicle-mounted operation while monitoring satellite communication signals. Additionally, It is well-suited for other field applications such as research and school lectures, engineering maintenance, and mass production testing.
Included: Quick Start Guide, User Manual CD, Certificate of Calibration, Programming Manual, SpectrumShot Software, SpectrumShot Quick Start Guide, IVI Driver and Power Cord.