Instek PSB-2800L Multi-Range Output DC Power Supply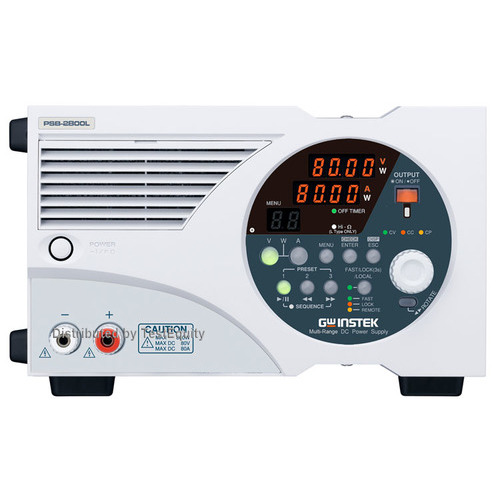 Brand:

Instek

Condition:

New
Programmable, Multi-Range/High-Voltage Output
Output Power Rating: 400W & 800W
Output Voltage Rating: 80V / 800V
Constant Power Output for Multi-Range (V & I ) Operation
Series and Parallel operation (2 units in series or 4 units in parallel Max.)
90 Degree Angle Rotatable Panel Operation (Vertically or Horizontally)
Sequence Function edited by PC will be controlled through power supply interfaces
USB / RS-232 / Analog Control interfaces standard
GPIB optional
Two-year warranty
4:1 High Power, Programmable and Multi-range Output DC Power Supplies
GW INSTEK PSB-2000 Series consists of six models: PSB-2400L, PSB-2800L, PSB-2400L2, PSB-2400H, PSB-2800H, and PSB-2800LS. Output voltages are 0-80V and 0-800V in 400W and 800W packages. The PSB-2000 Series is also Series- and Parallel-compatible. A Booster unit acts like a slave to extend the current when matched with a master unit. A Hi-Ω mode prevents reverse current discharge. The power supply and display can be rotated 90° to save bench space.
The PSB-2000 Series provides three sets of Preset Function keys to memorize regularly used voltage, current, and power settings so they can be recalled quickly. The Sequence Function mode can produce output conditions defined by a sequence of voltage and current steps. These steps are created in a CSV file which is uploaded to the power supply via computer. This function is useful to establish a standard test procedure for the verification of the influence on DUTs by the swiftly changing operating conditions.
The PSB-2000 Series has over-voltage and over-current protection. The power supply output function will be shut down to protect DUTs when the protection mechanism is triggered. When changing batteries, the Hi-Ω mode of the PSB-2000 Series will prevent reverse current from damaging the power supply.
The PSB-2000 Series power supplies have an analog control interface on the rear panel for control via the external voltage or to externally monitor voltage and current output status of the power supply. The PSB-2000 Series front panel can be rotated 90° horizontal or vertical to accommodate your workspace.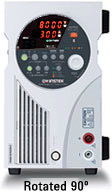 Download the PSB-2000 Series Data Sheet for technical specifications, and information regarding:
Multi-Range Operation
Analog control
Parallel and Series Operation
Tracking and Delay Functions (PSB-2400L2)
Hi-Ω and Remote Sense Functions
Preset, Sequence, OVP, and OCP Functions
90 Degree Angle Rotatable Control Panel
PSB-2000 Series Multi-Range DC Power Supplies
Model
Type
Channels
Voltage (V)
Current (A)
Power (W)
PSB-2400L
Master / Slave
1
0 - 80
0 - 40
10 to 400
PSB-2800L
Master / Slave
1
0 - 80
0 - 80
10 to 800
PSB-2400L2
Master / Slave
2
0 - 80
(x2)
0 - 40
(x2)
10 to 400
(x 2 channels)
PSB-2400H
Master / Slave
1
0 - 800
0 to 3
0 to 400
PSB-2800H
Master / Slave
1
0 - 800
0 - 6
0 to 800
PSB-2800LS*
Slave Unit for
PSB-2800L Only
N/A
0 - 80
0 - 80
10 to 800
* PSB-2800LS: a booster unit acting as a slave to extend current, cannot operate alone. It must operate with PSB-2800L master.
Note: Output Volts x Amps cannot exceed the maximum power rating. For instance, when PSB-2400L output is 80 V, the maximum current is 5 A (400 W total). Similarly, when PSB-2400L output is 40 A, the highest voltage is 10 V (400 W total).
Includes: user's manual (CD), AC power cord, external control connector (26-pin), screws for output terminals on rear panel, protection covers for output terminals on rear panel, protection caps for output terminals on the front panel, GND cable, USB cable for models PSB-2400L, PSB-2800L, PSB-2400L2, PSB-2400H, PSB-2800H, local bus for models PSB-2400L, PSB-2800L;, PSB-2400L2, PSB-2400H, PSB-2800H