Instek PSW 250-13.5 Multi-Range DC Power Supply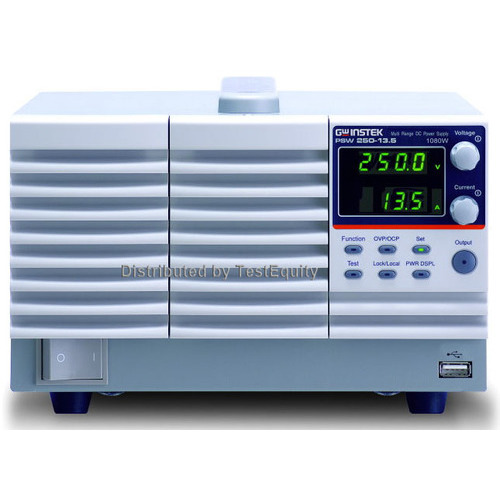 Brand:

Instek

Condition:

New
Voltage Rating: 0 to 250 V
Current Rating: 0 to 13.5 Amps
Output Power: 1080 W maximum (Volts x Amps cannot exceed 1080 W)
Constant Power Output for Multiple Range (V&I) Operation
CV/CC Priority; Particularly Suitable for the Battery and LED Industry
Adjustable Slew Rate
Series and Parallel Operation: (2 units in Series / 3 units in Parallel Maximum)
High Efficiency and High Power Density
Standard Interface: LAN, USB, Analog Control Interface
GPIB-USB Adapter (Optional)
LabVIEW Driver
Programmable Switching DC Power Supply
The PSW 250-13.5 is a single output multi-range programmable switching DC Power Supply with a power output of 1080 watts. The multi-range feature allows the flexible and efficient configuration of voltage and current within its power range. As with all PSW-Series power supplies, the PSW 250-13.5 can be connected in series for maximum 2 units, or in parallel for maximum 3 units increasing their capacity for higher voltage or higher current output. With the flexibility of multi-range power utilization and series/parallel connection, the PSW 250-13.5 can significantly reduce your investment in various power supplies as it can accommodate projects with different power requirements.
The PSW 250-13.5 is a regulated switching DC power supply producing 0 to 250 volts and 0 to 13.5 amperes. It operates in Constant Current (CC) mode or Constant Voltage (CV) mode within a wide operating range. The CV/CC priority selection of the PSW-Series is a very useful feature for DUT protection. The conventional power supply normally operates under CV mode when the power output is turned on. This could bring a high inrush current to the capacitive load or current-intensive load at the power output-on stage.
Multi-Range Operation
The operation area of each power supply is determined by the rated output power as well as the voltage and current rating. The PSW series has a unique characteristic of multi-range output (voltage x current). This distinguishing feature, under the same maximum power output range, can output a higher voltage with a smaller current and vice versa. The figures of operation area and rated power output for all PSW-Series models are shown below.


Includes: User's Manual (printed & CD), PSW-004 Basic Accessories Kit*.
* PSW-004 includes: M4 Terminal screws and washers (2), Air Filter, Analog control protection dummy, Analog control lock lever, M8 terminal bolts, nuts and washers (2).