Keithley 2200-20-5 Programmable DC Power Supply
Keithley 2200-20-5 Programmable DC Power Supply
19785.12
MFG #: 2200-20-5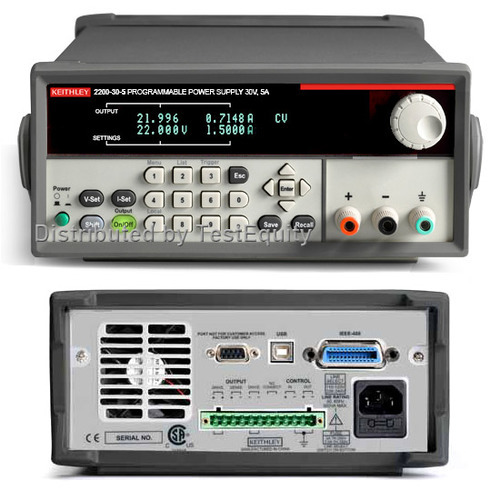 Condition:

Used

Manufacturer:

Keithley
20 Volts, 5 Amps, 100 Watts 0.03% basic voltage output accuracy and 0.05% basic current accuracy provide quality test data High output and measurement resolution, 1mV and 0.1mA, for testing low power circuits and devices Remote sensing to ensure the programmed voltage is applied to the load Dual-line display shows both the programmed values and actual outputs for a continuous indication of the status of the power delivered to the load Repeatable test sequences of up to 80 output steps are easy to create with the built-in List mode GPIB and USB interfaces are standard for convenient automated control Three-year warranty
100 W Programmable DC Power Supply
The 2200-20-5 has an output of 20 Volts, 5 Amps, and delivers 100 Watts of power. In addition, the 2200-20-5 can act as a constant current source as well as constant voltage source.
Get Test Results Quickly
The 2200-20-5 power supply has a number of features that enable you to obtain the results you need quickly and easily, including tools to help you create sophisticated tests for a wide range of requirements.
Select a Convenient Interface
The 2200-20-5 power supply can be an integral part of your automated test system. You have the option to control each power supply over a GPIB interface or a USB interface. The USB interface is test and measurement class (TMC) compliant so you can use the standard SCPI command syntax.
Protects Your DUT at All Times
A number of features are built into the 2200-20-05 to ensure that your DUT is protected from damage. A maximum voltage can be set so that regardless of the voltage value requested, the output will not exceed the programmed limit value.
Includes: CS-1638-12 Rear Panel Mating Connector, Documentation, and Driver CD.
Visit the 2200 Series Programmable DC Power Supplies family page for additional information. >>