Keithley 2268-20-42 DC Power Supply
Keithley 2268-20-42 DC Power Supply
22744.1
MFG #: 2268-20-42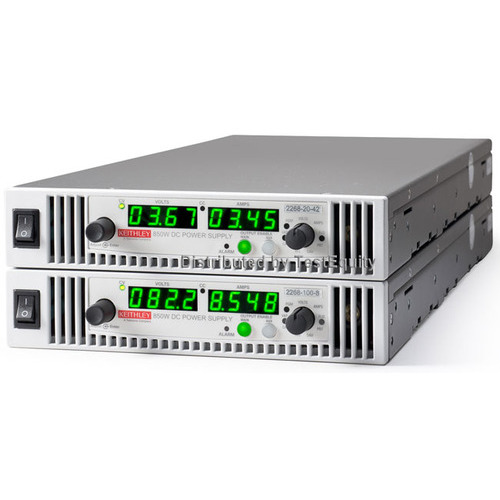 Condition:

New

Discontinued:

Yes

Family Models:

2268 Series

Manufacturer:

Keithley
• 2268-20-42:

20 V, 42 A

• 2268-40-21:

40 V, 21 A

• 2268-60-14:

60 V, 14 A

• 2268-80-10:

80 V, 10.5 A

• 2268-100-8:

100 V, 8.5 A

• 2268-150-5:

150 V, 5.6 A
Compact 1U, half-rack enclosure
Two auxiliary outputs support driving or signaling external devices
Isolated analog inputs minimize control line noise
Built-in LAN, USB, GPIB, RS-232, RS-485 interfaces and analog inputs are all standard
Constant voltage, constant current, and constant power setting control
Auto sequence supports internal commands execution, minimizing bus communication time
Control up to 30 supplies through a single controller interface
Foldback mode with programmable delay shuts down the output to protect sensitive devices
Numerous safety features protect the load and the supply
CSA 22.2 No. 61010-1, 60950-1-07 and UL61010-1 and UL60950-1 (2nd ed.). Marked with cCSAus, CE for EMC and European Union Low Voltage Directive.
Three-year warranty
More Automated Test Performance with More Power and More Voltage & Current Options
The six 850 W DC Power Supplies in the 2268 Series provide voltage and current output levels well-suited for automated test applications. They offer maximum voltage outputs of 20V, 40V, 60V, 80V, 100V, and 150V with corresponding maximum current outputs of 42A, 21A, 14A, 10.5A, 8.5A, and 5.6A.
850 Watts in the Most Compact Package
The 2268 Series supplies offer the highest power density in the smallest package. The 2268 Series supplies are packaged in a low profile 1U high, half-rack width enclosure. These supplies take up minimum space in a test rack. When multiple supplies are needed, these supplies can easily mount side-by-side in a test rack to provide two outputs in a 1U height space. Ventilation for the 2268 Series supplies is from the front of the instrument to the back so additional rack space for airflow above, below, or to the side of the supplies is not required. Thus, only 1U of total rack height is all that is needed. Furthermore the 2268 Series power supplies operate at temperatures up to 122°F (50°C) so that they can perform reliably even in test racks that have elevated temperatures.
A Full Complement of Control and Interface Options 2268 Series power supplies offer users a wide range of interface options, including built-in LAN, USB, GPIB, RS-232, and RS-485 control interfaces. The supplies can also be controlled by analog control signals. A supply's voltage output and current can be set using either voltage or resistance input values.
Both isolated and non-isolated analog inputs are available. When long control lines or control lines exposed to an electrically noisy environment create signal integrity concerns, the isolated analog inputs can reduce or eliminate the susceptibility to signal degradation.
An auto sequence program mode gives 2268 Series supplies the built-in intelligence needed to execute lists of commands. Multiple commands can be downloaded, stored in the power supply's memory, and executed using a single command from the controller. The program can be repeated a specific number of times or cycled continuously. This ability to execute a set of commands internally saves test time by eliminating the delays involved in sending individual commands over a PC bus.
For large power systems that require multiple power supplies, up to 30 of the 2268 Series supplies can be controlled through a single interface by linking all the supplies together through their RS-485 interfaces. That allows controlling all the supplies through a master unit, which can use any of the five standard PC interfaces. This greatly simplifies managing multiple power supplies in a single system.
Model
Maximum Voltage
Maximum Current

850 W represents the maximum available power from the combination of the Maximum output power + the maximum power from the auxiliary outputs.

Two auxiliary voltage outputs: 15V and 5V
The auxiliary outputs' maximum power is 10W (5W for each output)
850W = VMAX x IMAX + Aux1 (15V x 0.5A) + Aux2 (5V x 0.5A)
The maximum output power of the main output is 840W with the exception of the 2268-100-8, which has a main output of 850W and a total available power of 860W

Please refer to Data Sheet for complete specifications.

2268-20-42
20 V
42 A
2268-40-21
40 V
21 A
2268-60-14
60 V
14 A
2268-80-10
80 V
10.5 A
2268-100-8
100 V
8.5 A
2268-150-5
150 V
5.6 A
Auxiliary Outputs for External Device Control
In addition to the main output power, 2268 Series power supplies offer two auxiliary outputs, 15V output and a 5V output, for signaling and control tasks, such as to supply signals to a device handler or a test fixture control input. These auxiliary outputs can also drive external control relays. For test systems that require a few control signals or relay control, these outputs can eliminate the need for another power supply or data I/O card.
Expand Voltage or Current Capacity for Higher Output Requirements
Up to two 2268 Series power supplies can be connected in series, or up to four of them connected in parallel, to produce higher voltage or current output to satisfy high voltage/current test applications. And when an application requires a bipolar output, two 2268 Series power supplies can be linked with the low terminal of one supply connected to the high terminal of the second one.
Protection for the Load and the Power Supplies
2268 Series power supplies provide one set of parameters designed to protect the load from damage and another set that protect the supplies themselves. For applications that require outputting voltages only within a narrow range, 2268 Series supplies support setting both over-voltage and under-voltage shutdown levels. Over-current protection prevents excess current from damaging the load, the supply, or both. An over-temperature limit prevents excessively high temperatures that could damage the supply's internal components.
The 2268 Series supplies allow outputting any current, including the maximum current, at any voltage. They provide both analog and digital control options and a number of digital interface options and can operate in constant voltage (CV), constant current (CC), or constant power modes to address a broad array of applications. These high-efficiency, soft-starting power supplies provide reliable performance and long life.
The 2268 Series DC power supplies are well-suited for production testing, environmental testing, accelerated life testing and process control systems.
Included: CD with manual and power cord. Models 2268-20-42 and 2268-40-21 also come with 2258-HDR test lead connection hardware.