Keithley 2380-120-60 Programmable DC Electronic Load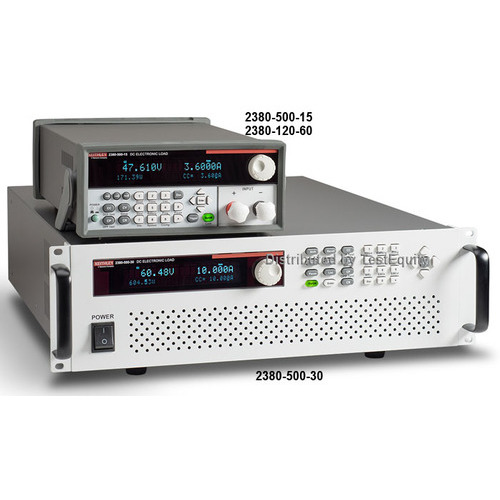 Brand:

Keithley

Condition:

New
2380-120-60: 250 W, 120 V or 60 A
Constant current (CC),constant voltage (CV), constant resistance (CR), and constant power (CP) modes
LED simulated load test mode
Readback voltage and current resolution down to 0.1 mV/0.01 mA
Dynamic mode with cycle rate up to 25 kHz
Voltage rise and fall time measurement
Current monitor function
List mode
Battery test mode
Built-in GPIB,USB, and RS-232 interfaces
Three-year warranty
Validate the performance of DC power sources, power components and batteries
The 2380 Series programmable DC electronic loads can sink a wide range of voltages and currents. The 250 Watt Model 2380-120-60 can accept up to 120 V or 60A. These single-output, stand-alone electronic loads are cost-effective and self-contained.
Multiple Operating Modes
These DC electronic loads can operate in constant current (CC), constant voltage (CV), constant resistance (CR), or constant power (CP) mode. They can also be configured to provide a dynamically changing load to the DC source with load switching times as fast as 25 kHz. Versatile internal, external, and remote triggering options allow synchronizing the dynamic load behavior with other events.
Comprehensive Protection
Protection functions built into the 2380 Series DC electronic loads ensure the reliability and safety of all tests. These functions include over temperature protection (OTP), over voltage protection (OVP), over current protection (OCP), over power protection (OPP), and local/remote reverse voltage (LRV/RRV) protection. A power-on system self-test ensures the instrument is operating properly.
Full Complement of Settings and Controls
To maximize testing efficiency, you can save test parameters into any one of 100 memory locations for quick recall. All load parameters, such as voltage, current, slew rate, and dynamic mode time intervals, can be set using the front panel controls or programmed remotely. A numeric keypad and rotary knob allow entering settings quickly and setting parameters to their full resolution easily. USB-TMC, GPIB and RS-232 interfaces are built in for remote control and communication. A current monitor interface simplifies monitoring input current waveforms by providing a connection for an oscilloscope.
Keithley 2380 Series electronic loads are well-suited for environmental test, stress test, and accelerated life testing for AC/DC power sources and DC/DC modules, LED lighting drivers and high power component testing, automotive electronics testing, battery research and discharge testing and production testing.
| | | | |
| --- | --- | --- | --- |
| | Maximum Voltage | Maximum Current | Maximum Power |
| 2380-120-60 | 120 V | 60 A | 250 W |
| 2380-500-15 | 500 V | 15 A | 200 W |
| 2380-500-30 | 500 V | 30 A | 750 W |
The power rating determines the maximum available current for a given voltage output. For example, the 2380-500-15 is rated as 500 V, 15 A, or 200 W, but you cannot get 500 V and 15 A simultaneously. The maximum current at 500 V is 0.4 A (500 V x 0.4 A = 200 W).
2380 Series single-output Programmable DC Electronic Loads offer GPIB, RS232 and USB connectivity and can operate in constant current, constant voltage, constant resistance, or constant power modes.
Included with 2380 Series Electronic Loads: Quick Start Guide, documentation CD and power cord.