Keithley 2450-EC Graphical Potentiostat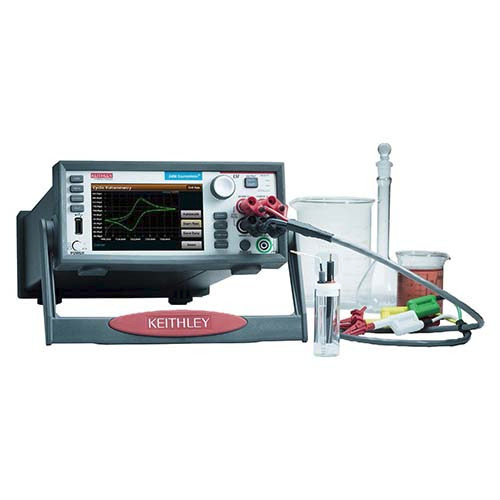 Brand:

Keithley

Condition:

New

Family Models:

2450-EC
Perform Cyclic, Squarewave, or Galvanic Voltammetry, Chronoamperometry, and Chronopotentiometry
Simplified user interface for faster test setup and analysis of results
Real-time plotting of voltammograms on the front panel
Analytical graph cursors for immediate analysis of results without the need for a PC
Create libraries of reusable, customizable experimental software with built-in scripting
Screen capture function allows copying test results from the display to reports
10 nV and 10 fA measurement sensitivity
Front panel input banana jacks; rear panel input triaxial connections
Context-sensitive help function minimizes learning
Front-panel USB 2.0 memory I/O port for transferring data, test scripts, or test configurations
The 2450-EC Graphical Potentiostat brings speed, flexibility, and simplicity right to your fingertips. Its innovative graphical user interface (GUI) and advanced, capacitive touchscreen technology allow intuitive usage and minimize the learning curve to enable researchers, scientists, and students to learn faster, work smarter, and invent easier. The 2450-EC is a versatile instrument, particularly well-suited for research and development in fundamental electrochemical lab research, characterizing the next generation of materials and electrolytes, new energy storage devices, and faster, smaller sensors.
The 2450-EC includes a wide range of voltages and currents for sourcing or measuring, nV / fA sensitivities, and high impedance sense leads with a typical input resistance of 50 G ohms and only 1pA of input bias current, typically acceptable with a wide variety of reference electrodes. The 2450-EC can run internal application test scripts so electrochemistry meaurements can be run without the use of an external computer. Results are immediately displayed right on the instrument front panel touchscreen. Connecting the 2450-EC to a 2-, 3-, or 4-electrode cell is simple with the included translation cable.
Learn Faster, Work Smarter, Invent Easier
Unlike traditional potentiostats that lack a user-interface front panel to interact with, the 2450-EC features a five inch, full-color, high resolution touchscreen that facilitates ease of use, and optimizes overall speed and productivity. Built-in, context-sensitive help enables intuitive operation and minimizes the need to review a separate manual. These capabilities combined with its application versatility make the 2450-EC inherently easy to use for basic and advanced measurement applications, regardless of your experience level with electrochemistry instruments.