Keithley 2450 SourceMeter Instrument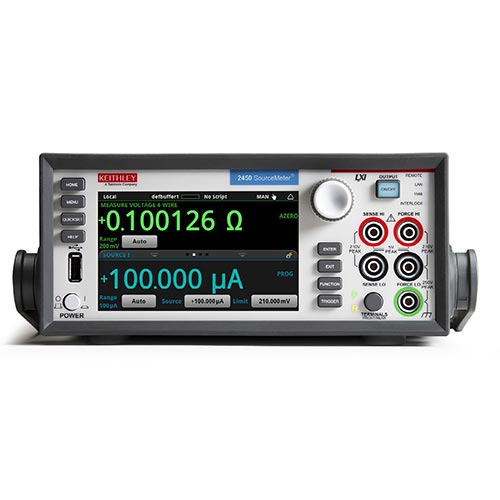 Brand:

Keithley

Condition:

New

Volts:

200

Amps:

1

Watts:

20
Industry's First Capacitive Touchscreen Source Measure Unit (SMU) Instrument
200 V, 1 A, or 20 W max.
Capabilities of analyzers, curve tracers, and I-V systems
Five-inch, high resolution capacitive touchscreen GUI
0.012% basic measure accuracy with 6-1/2 digit resolution
Enhanced sensitivity with new 20mV and 10nA source/measure ranges
Source and sink (4-quadrant) operation
Four "Quickset" modes for fast setup and measurements
Built-in, context-sensitive front panel help
Front panel input banana jacks; rear panel input triaxial connections
GPIB, USB, Ethernet (LXI)
2450 enhanced SCPI and TSP scripting programming modes
Model 2400 SCPI-compatible programming mode
Front panel USB memory port for data/programming/configuration I/O
Graphical touchscreen reduces your learning curve, enables quick setup, and gives you results faster.
The Model 2450 is Keithley's next-generation SourceMeter source measure unit (SMU) Instrument that truly brings Ohm's law (current, voltage, and resistance) testing right to your fingertips. Its innovative graphical user interface (GUI) and advanced, capacitive touchscreen technology allow intuitive usage and minimize the learning curve to enable engineers and scientists to learn faster, work smarter, and invent easier.
Touch, Test, Invent
The 2450 is the SMU for everyone: a versatile instrument, particularly well-suited for characterizing modern scaled semiconductors, nano-scale devices and materials, organic semiconductors, printed electronics, and other small-geometry and low-power devices. All this combined with Keithley SMU precision and accuracy allow users to Touch, Test, Invent™ with the new favorite go-to instrument in the lab for years to come.
Learn Faster, Work Smarter, Invent Easier
Unlike conventional instruments with dedicated push-button technology and small, obscure, limited- character displays, the 2450 features a five-inch, full-color, high resolution touchscreen that facilitates ease of use and learning and optimizes overall speed and productivity. A simple menu structure reduces configuration steps by as much as 50 percent and eliminates the cumbersome multi-layer menu structures typically used on soft-key instruments. Built-in, context-sensitive help enables intuitive operation and minimizes the need to review a separate manual. These capabilities combined with its application versatility make the 2450 the SMU instrument inherently easy to use for basic and advanced measurement applications, regardless of your experience level with SMU instruments.
Fourth-Generation, All-in-One SMU Instrument
The 2450 is the fourth-generation member of Keithley's award-winning SourceMeter family of SMU instruments and is based on the proven architecture of the Model 2400 SourceMeter SMU Instrument. It offers a highly flexible, four-quadrant voltage and current source/load coupled with precision voltage and current meters. This all-in-one instrument can be used as a:
Precision power supply with V and I readback
True current source
Digital multimeter (DCV, DCI, ohms, and power with 6-1/2 digit resolution)
Precision electronic load
Trigger controller
Start taking measurements in minutes with KickStart
Making measurements is easy with KickStart. Perform I-V characterization, data logging, and voltage sourcing with load current measurements. View data in graphical or tabular format. Data can be stored to a disk for later analysis in a software environment such as Microsoft Excel.
Ease of Use Beyond the Touchscreen
In addition to its five-inch, color touchscreen, the 2450 front panel has many features that supplement its speed, user-friendliness, and learnability, including a USB 2.0 memory I/O port, a HELP key, a rotary navigation/control knob, a front/rear input selector button, and banana jacks for basic bench applications. The USB 2.0 memory port supports easy data storing, saving instrument configurations, loading test scripts, and system upgrades. Plus, all front panel buttons are backlit to enhance visibility in low-light environments.

Five-inch Advanced Touchscreen Graphical Interface
Home View
Menu View
Graph View
Table View