Keithley 2460 SourceMeter Instrument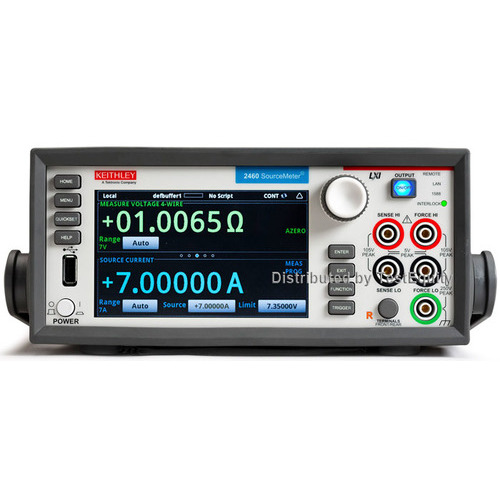 Brand:

Keithley

Condition:

New
Industry's First Capacitive Touchscreen Source Measure Unit (SMU) Instrument
Tightly coupled: combines capabilities from analyzers, curve tracers, and I-V systems
Wide coverage up to 105 V, 7A DC/7 A pulse, 100 W maximum
Five-inch, high resolution capacitive touchscreen GUI
0.012% basic measure accuracy with 6-1/2 digit resolution
Source and sink (4-quadrant) operation
Four "Quickset" modes for fast setup and measurements
Context-sensitive help function
Front panel input banana jacks; rear panel input mass-termination screw connections
2460 SCPI and TSP® scripting programming modes
Front-panel USB 2.0 memory I/O port for transferring data, test scripts, or test configurations
100 Watts, 7 Amps
The Model 2460 High Current SourceMeter® Source Measure Unit (SMU) Instrument brings advanced Touch, Test, Invent® technology right to your fingertips. It combines an innovative graphical user interface (GUI) with capacitive touchscreen technology to make testing intuitive and minimize the learning curve to help engineers and scientists learn faster, work smarter, and invent easier. With its 7A DC and pulse current capability, the Model 2460 is optimized for characterizing and testing high power materials, devices, and modules such as silicon carbide (SiC), gallium nitride (GaN), DC-DC converters, power MOSFETs, solar cells and panels, LEDs and lighting systems, electrochemical cells and batteries, and much more. These new capabilities, combined with Keithley's decades of expertise in developing high precision, high accuracy SMU instruments, will make the Model 2460 a "go-to instrument" for high current applications in the lab and in the rack for years to come.
Learn Faster, Work Smarter, Invent Easier
The Model 2460 features a five-inch, full-color, high resolution touchscreen that supports intuitive operation, helps operators become familiar with the instrument quickly, and optimizes overall speed and productivity. A simple icon-based menu structure reduces the number of steps required to configure a test by as much as 50 percent and eliminates the cumbersome multi-layer menu structures typically used on soft-key instruments. Built-in, context-sensitive help supports intuitive operation and minimizes the need to review a separate manual. These capabilities, combined with the Model 2460's high versatility, simplify its operation in both basic and advanced measurement applications, regardless of the user's previous experience in working with SMU instruments.
Ease of Use Beyond the Touchscreen
In addition to its advanced touchscreen, the Model 2460's front panel offers a variety of features that enhance its speed, user-friendliness, and learnability, including a USB 2.0 memory I/O port, a HELP key, a rotary navigation/control knob, a front/rear input selector button, and banana jacks for basic bench applications. The USB 2.0 memory port simplifies storing test results and instrument configurations, uploading test scripts into the instrument, and installing system upgrades. All front-panel buttons are backlit to enhance visibility in low-light environments.
Unmatched System Integration and Programming Flexibility
The 2460 can be configured into a multi-channel I-V test system allowing its embedded Test Script Processor (TSP) to run test scripts. TSP technology also offers channel expansion without a mainframe. Keithley's TSP-Link channel expansion bus, which uses a 100 Base T Ethernet cable, can connect multiple Model 2460s and other TSP instruments such as Keithley's Model 2450 SourceMeter SMU Instruments, Series 2600B System SourceMeter SMU instruments, and Series 3700A Switch/Multimeter systems in a master-slave configuration that operates as one integrated system. The TSP-Link expansion bus supports up to 32 units per GPIB or IP address, making it easy to scale a system to fit an application' particular requirements. The Model 2460 also includes a SCPI programming mode that takes advantage of all of the instrument's capabilities.
Typical Applications
Keithley Model 2460 is ideal for current/voltage characterization and functional test of a wide range of modern electronic devices, including: power semiconductors and materials, telecom power management chipsets, electrochemistry, solar energy generation, LEDs and automotive modules.