Keithley 2461 SourceMeter Instrument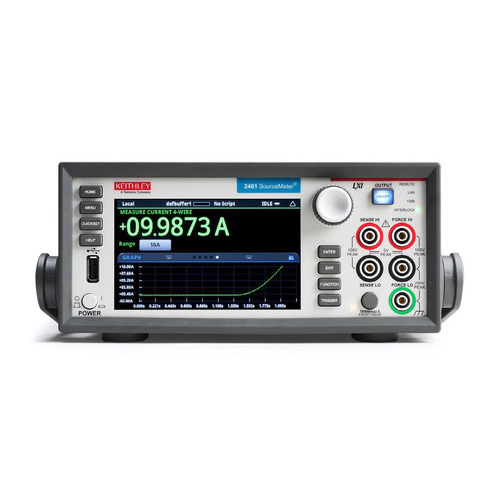 Brand:

Keithley

Condition:

New

Volts:

105

Amps:

7

Watts:

100
Up to 105 V, 7 A DC, 100 W max; 100 V, 10 A Pulse 100 W max.
Combines the capabilities of analyzers, curve tracers, and I-V systems
Dual 1MS/s digitizers for fast sampling measurements
Five-inch, high-resolution capacitive touchscreen GUI
0.012% DCV accuracy with 6-1/2 digit resolution
Source and sink (4-quadrant) operation
Four "Quickset" modes for fast setup and measurements
Context-sensitive help function
Front panel input banana jacks; rear panel mass termination screw connections
SCPI and Test Script Processor (TSP®) programming modes
Front-panel USB 2.0 memory I/O port for transferring data, test scripts, or test configurations
One-year warranty
All-in-One SMU Instrument
The Model 2461, part of Keithley's fourth generation SourceMeter SMUs, leverages the proven capabilities of the Series 2400 SMU instruments to offer a highly flexible, four-quadrant voltage and current source/load coupled with precision voltage and current measurements. It combines an innovative graphical user interface (GUI) with capacitive touchscreen technology to make testing intuitive and minimize the learning curve to get you up to speed faster.
Your go-to instrument for high current sourcing and high speed measurement applications in the lab and in the rack
With its 10A/1000W pulse current and 7A/100W DC current capability combined with dual 18-bit 1MS/s digitizers, the Model 2461 is optimized for characterizing and testing high power materials, devices, and modules, such as silicon carbide (SiC), gallium nitride (GaN), DC-DC converters, circuit protection devices, solar cells and panels, high brightness LEDs and lighting systems, electrochemical cells and batteries, and much more.
Capture Real Device Operation with the Built-in Dual 1MS/sec Digitizers
Capturing and displaying real device operation, waveforms, and transient events just got easier with the Model 2461's digitizing function. The two built-in 1MS/sec, 18-bit digitizers make it possible to acquire both voltage and current waveforms simultaneously without the need to use a separate instrument. The digitizing functions employ the same DC voltage and current measure ranges that the standard A/D converter uses. In addition, the voltage digitizing function uses the same DC voltage 10GΩ input impedance levels to reduce loading significantly on the device under test (DUT).
Instrument Control Start-up Software
KickStart instrument control/start-up software, available for the Model 2461, lets you start taking measurements in minutes without programming. In most cases you just make some quick measurements, graph the data, and store the data to disk for later analysis in software environments such as Excel. KickStart's I-V Characterization Application performs current versus voltage (I-V) testing on a variety of materials, two-terminal and multi-terminal semiconductor devices, solar cells, embedded systems, and much more.
Learn Faster; Work Smarter; Invent Easier
The Model 2461 features a five-inch, full-color, high resolution touchscreen that supports intuitive operation, helps operators become familiar with the instrument quickly, and optimizes overall speed and productivity. A simple icon-based menu structure reduces the number of steps required to configure a test by as much as 50 percent and eliminates the cumbersome multi-layer menu structures typically used on soft-key instruments. Built-in, context-sensitive help supports intuitive operation and minimizes the need to review a separate manual.
Typical Applications
Keithley 2461 SourceMeter is ideal for current/voltage (I-V) characterization and functional test of a wide range of today's modern electronics and devices, including: Power semiconductors and materials, Power management and protection devices and Galvanic cycling as well as other applications in electrochemistry.
Included with the 2461 SourceMeter: 2460-KIT Rear Panel Mating Mass Terminated Screw Connector, 8608 High Performance Test Leads, USB-B-1 USB Cable (Type A to Type B, 3.3 ft), CS-1616-3 Safety Interlock Mating Connector, CA-180-3A TSP-Link/Ethernet Cable, Documentation CD, 2461 QuickStart Guide, Test Script Builder Software, KickStart Startup Software and LabVIEW and IVI Drivers (Test Script Builder, KickStart and LabVIEW software available at www.tektronix.com).