Keithley 2602B Dual Channel SourceMeter
Keithley 2602B Dual Channel SourceMeter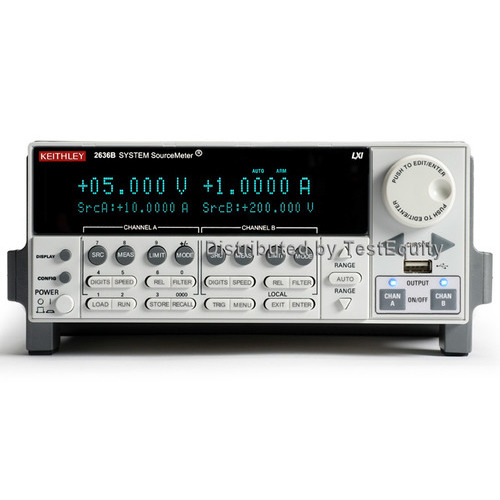 Manufacturer:

Keithley

Condition:

New
Dual Channel
6-1/2 digits display
30 - 40 Watts per channel
Current Max / Min: 10A pulse / 100fA
Voltage Max / Min: 40V / 100nV
2400 SCPI Emulation
USB 2.0, LXI-C, GPIB, RS-232, and digital I/O interfaces
Free software drivers and development/debug tools
Optional ACS-Basic semiconductor component characterization software
Precise and Stable Sourcing and Measurement of Current and Voltage
The 2602B is built from Keithley's 3rd generation SMU technology and combines the capabilities of a Precision Power Supply, true Current Source, 6-1/2 digit DMM, Arbitrary Waveform Generator, Pulse Generator, and Electronic Load — all into one tightly integrated instrument.
Unmatched Throughput for Automated Test with TSP Technology
For automated system applications, the 2602B's Test Script Processor (TSP) runs complete test programs from inside the instrument for industry-best throughput. Because the 2602B has fully-isolated channels that do not require a mainframe, it can be easily re-configured and redeployed as your test applications evolve.
Java-based Plug & Play I/V Test Software
The Series 2600B are the only SMU instruments to feature built-in, Java-based test software that enables true plug & play I/V characterization through any browser, on any computer, from anywhere in the world. This unique capability boosts productivity across a wide range of applications such as R&D, education, QA/FA, and more. Simply connect the 2602B to the Internet via the supplied LAN cable, open a browser, type in the 2602B's I.P. address, and begin testing. Resulting data can be downloaded to a spreadsheet such as Excel for further analysis and formatting, or for inclusion in other documents or presentations.
Additional features include Contact check, TSP-Link connector, and Digital I/O,
Includes: Operator and Programming Manuals, 2600-Kit: Mating Screw Terminal Connectors with strain relief and covers, CA-180-3A: TSP-Link/Ethernet Cable (two per unit), TSP Express Software Tool (embedded), Test Script Builder Software (supplied on CD), and LabVIEW Driver.