Keithley 2611B Single Channel SourceMeter
Keithley 2611B Single Channel SourceMeter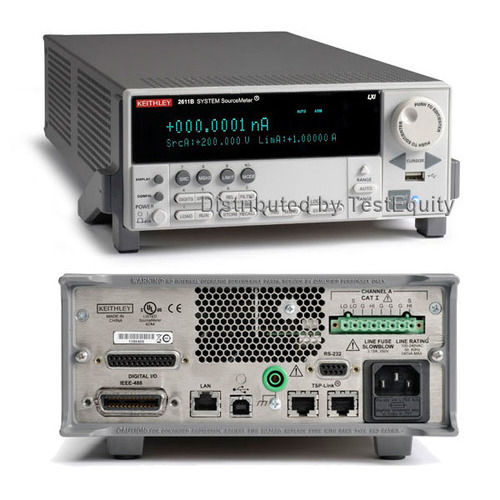 Manufacturer:

Keithley

Condition:

New
Tightly-integrated, 4-quadrant voltage/current source and measure instruments offer best in class performance with 6-1/2 digit resolution
Family of models offer industry's widest dynamic range: 10A pulse to 0.1fA and 200V to 100nV
Built-in, Java-based test software enables true plug & play I/V characterization and test through any browser
TSP (Test Script Processing) technology embeds complete test programs inside the instrument for best-in-class system-level throughput
TSP-Link expansion technology for multi-channel parallel test without a mainframe
Software emulation for Keithley's Model 2400 SourceMeter SMU Instrument
USB 2.0, LXI-C, GPIB, RS-232, and digital I/O interfaces
Free software drivers and development/debug tools
Optional ACS-Basic semiconductor component characterization software
The Flexibility of Separate Instruments with the Speed of Mainframe-Based Systems
The Series 2600B SMUs are the industry's leading current/voltage source and measure solutions, and are built from Keithley's 3rd generation SMU technology. The Series 2600B offers single- and dual-channel models that combine the capabilities of a Precision Power Supply, true Current Source, 6-1/2 digit DMM, Arbitrary Waveform Generator, Pulse Generator, and Electronic Load — all into one tightly integrated instrument. The result is a powerful solution that significantly boosts productivity in applications ranging from bench-top I/V characterization through highly-automated production test.
High Speed, Multi-Channel I-V Characterization & Test Tools
For bench-top use, Series 2600B instruments feature built-in, Java-based software that enables plug & play I/V testing through any browser, on any computer, from anywhere in the world. For automated system applications, the Series 2600B's Test Script Processor (TSP) runs complete test programs from inside the instrument for industry-best throughput. In larger, multi-channel applications, Keithley's TSP-Link technology works together with TSP to enable high-speed, SMU-per-pin parallel testing. Because Series 2600B SourceMeter SMU Instruments have fully-isolated channels that do not require a mainframe, they can be easily re-configured and redeployed as your test applications evolve.
Java-based Plug & Play I/V Test Software
The Series 2600B are the only SMU instruments to feature built-in, Java-based test software that enables true plug & play I/V characterization through any browser, on any computer, from anywhere in the world. This unique capability boosts productivity across a wide range of applications such as R&D, education, QA/FA, and more. Simply connect the SMU to the Internet via the supplied LAN cable, open a browser, type in the 2600B's I.P. address, and begin testing. Resulting data can be downloaded to a spreadsheet such as Excel for further analysis and formatting, or for inclusion in other documents or presentations.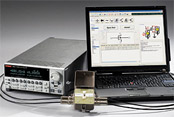 ACS Basic supports a wide range of controllers and test fixtures.
Applications include I-V functional test and characterization of a wide range of devices, including:
Simple ICs Optos, drivers, switches, sensors, converters, regulators
Discrete and passive components
Integrated devices small scale integrated (SSI) and large scale integrated (LSI)
Optoelectronic devices (LEDs, HBLEDs, VCSELs)
Wafer level reliability
Solar Cells and batteries
Keithley System SourceMeter® SMU Instruments
2651A / 2657A
High Current / High Power
2601B
1-Ch., 3A DC, 10A Pulse
2602B
2-Ch., 3A DC, 10A Pulse
2604B
2-Ch., 3A DC, 10A Pulse, Design-Opt*
2611B
1-Ch., 200V, 10A Pulse
2606B
4-Ch., 20V, 1A; 6V, 3A, 1U
2612B
2-Ch., 200V, 10A Pulse
2614B
2-Ch., 200V, 10A Pulse, Design-Opt*
2634B
2-Ch., 1fA, 10A Pulse, Design-Opt*
2635B
1-Ch., 0.1fA, 10A Pulse
2636B
2-Ch., 0.1fA, 10A Pulse
*Design Application Optimized: The 2604B, 2614B, and 2634 SourceMeters offer features for the design engineer or product engineer.
Additional features found in the 2601B, 2602B, 2611B and 2612B:
Contact check: verification that there is a good, low-resistance connection in the sense lines connecting to the DUT. This is important in production when test fixtures for components are switched in and out of a test system many times each day. Contact check verifies that no wires have broken loose from the test fixture.
TSP-Link connector: The Test Script Processor link allows one master SourceMeter to control other SourceMeters via a direct link. This reduces computer bus commands and communication time which speeds up production testing because the master SourceMeter Test Script Program controls the test, in essence, acting like the PC.
Digital I/O: The digital I/O lines provide direct fast hardware triggering between instruments again eliminating communication with the PC.
Includes: Operator and Programming Manuals, 2600-ALG-2: Low Noise Triax Cable with Alligator Clips, 2m (6.6 ft.) (two supplied with 2634B and 2636B, one with 2635B), 2600-Kit: Mating Screw Terminal Connectors with strain relief and covers (2601B/2602B/2604B/2611B/2612B/2614B), CA-180-3A: TSP-Link/Ethernet Cable (two per unit), TSP Express Software Tool (embedded), Test Script Builder Software (supplied on CD), and LabVIEW Driver.