Keithley 2614B Dual Channel SourceMeter
Keithley 2614B Dual Channel SourceMeter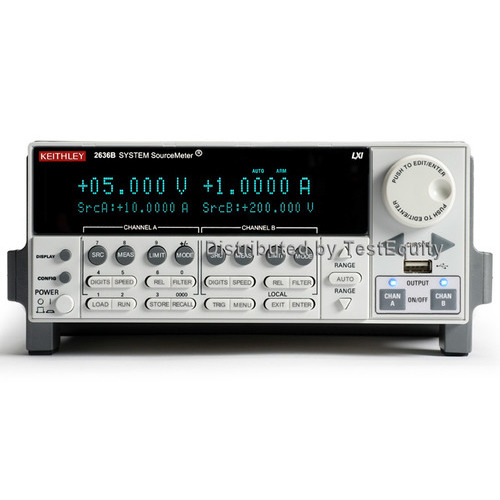 Manufacturer:

Keithley

Condition:

New
Dual-channel System SourceMeter SMU Instrument (200 V, 10 A Pulse, Benchtop Version
Voltage Source range from 200 mV to 200 V
Tightly-integrated, 4-quadrant voltage/current source and measure instruments offer best in class performance with 6-1/2 digit resolution
Family of models offer industry's widest dynamic range: 10A pulse to 0.1fA and 200V to 100nV
Built-in, Java-based test software enables true plug & play I/V characterization and test through any browser
Software emulation for Keithley's Model 2400 SourceMeter SMU Instrument
USB 2.0, LXI-C, GPIB, RS-232 interfaces
Free software drivers and development/debug tools
Optional ACS-Basic semiconductor component characterization software
The Flexibility of Separate Instruments with the Speed of Mainframe-Based Systems
The Series 2600B SMUs are the industry's leading current/voltage source and measure solutions, and are built from Keithley's 3rd generation SMU technology. The Series 2600B offers single- and dual-channel models that combine the capabilities of a Precision Power Supply, true Current Source, 6-1/2 digit DMM, Arbitrary Waveform Generator, Pulse Generator, and Electronic Load — all into one tightly integrated instrument. The result is a powerful solution that significantly boosts productivity in applications ranging from bench-top I/V characterization through highly-automated production test.
Java-based Plug & Play I/V Test Software
The Series 2600B are the only SMU instruments to feature built-in, Java-based test software that enables true plug & play I/V characterization through any browser, on any computer, from anywhere in the world. This unique capability boosts productivity across a wide range of applications such as R&D, education, QA/FA, and more. Simply connect the SMU to the Internet via the supplied LAN cable, open a browser, type in the 2600B's I.P. address, and begin testing. Resulting data can be downloaded to a spreadsheet such as Excel for further analysis and formatting, or for inclusion in other documents or presentations.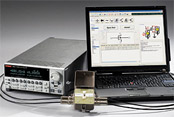 ACS Basic supports a wide range of controllers and test fixtures.
Applications include I-V functional test and characterization of a wide range of devices, including:
Simple ICs Optos, drivers, switches, sensors, converters, regulators
Discrete and passive components
Integrated devices small scale integrated (SSI) and large scale integrated (LSI)
Optoelectronic devices (LEDs, HBLEDs, VCSELs)
Wafer level reliability
Solar Cells and batteries