Keithley 2790-L SourceMeter Instrument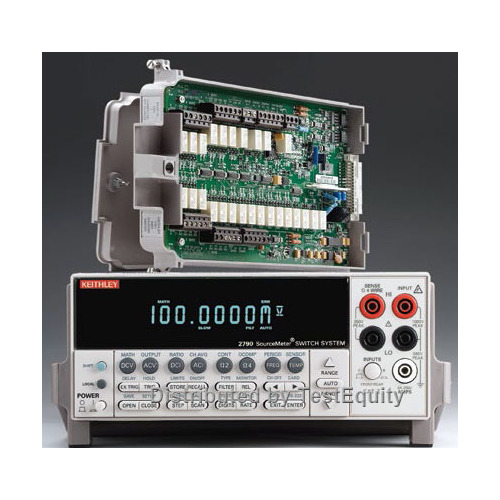 Brand:

Keithley

Condition:

New
Single-instrument solution for continuity and hipot type leakage resistance measurements
Programmable constant V source (50–500V) supports high speed, high resistance measurements
Programmable constant I source (0–50mA) with dry circuit clamp helps prevent device stress or damage during low resistance measurements
Modular architecture adapts easily to single or dual inflator testing and to single or dual position test stands and mixed device/signal applications
Expandable multiplexer channels for multipin applications
Included 6-1/2 digit DMM with wide functionality and broad measurement ranges
Intelligent automation support and easy integration with external test hardware
GPIB, RS-232, and digital I/O interfaces for flexible controller options
SCPI programmable for simple code development and future extensions
2-year calibration cycle of modules minimizes maintenance costs and system downtime
Sourcemeter Switch System Mainframe
The Model 2790 SourceMeter Switch System is a high voltage, multi-channel resistance measurement solution that speeds and simplifies electrical checks of airbag inflators and a variety of other automotive electrical test applications. It is the only commercial instrument that combines all the sourcing, measurement, and signal routing capabilities required to measure insulation resistance and conductor continuity in one compact, affordable package. Through the use of plug-in source/switch modules, the Model 2790 provides programmable high voltage and low current sourcing, plus multichannel switching support. This unique combination of capabilities establishes a new standard for price and performance in airbag inflator and other test applications.
Measure Extreme Resistances with Constant Current or Constant Voltage
The Model 2790 uses the forced constant-current method to measure resistances less than 1kW. In addition to the resistance measurement functions available through the plug-in source/switch modules, the Model 2790's built-in DMM allows it to make a full range of high precision resistance measurements as well as AC/DC voltage and current, frequency, and temperature measurements. These DMM functions are available either through front panel jacks or through the addition of a Model 7702 40-channel scanner module. In addition to the shorts/open testing performed with the standard Model 7751, 7752, and 7753 switch/ control modules, a wide range of supporting measurements can be made. These supporting measurements simplify creating integrated test solutions for hybrid applications, such as testing complex automotive seating systems, which increasingly combine airbag inflators and seatbelt pre-tensioners, seat heaters, switches, motors, etc.
Applications
Automotive airbag inflator/module electrical functional tests
Seatbelt pre-tensioner actuator/module functional electrical check
High speed, parallel soak, dual inflator, or dual test station electrical check
Pinched wire, high voltage, insulation resistance testing in automotive seats, avionics, etc.
Multipin connector/harness continuity and leakage resistance measurements
Multicontact/switch dry circuit continuity and leakage tests
Automotive power/fuse center continuity and leakage resistance characterization
PCB/PWB and general purpose short/open circuits testing
The Model 2790 is available in a variety of configurations to accomplish a broad range of measurements.