Keithley 3402-F Pulse/Pattern Generator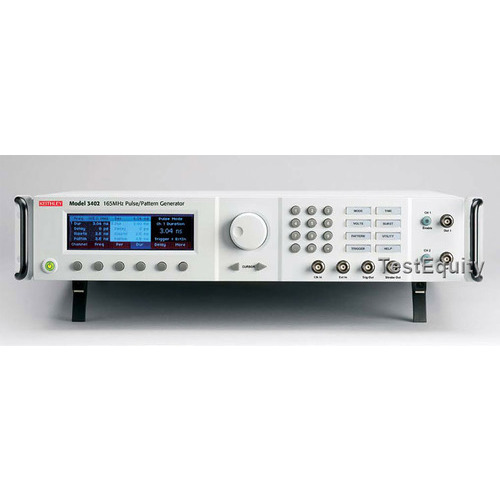 Brand:

Keithley

Condition:

Used

Family Models:

3402
Dual-channel signal outputs
1 mHz to 165 MHz frequency output range
Broad-purpose voltage pulse and pattern generation
Programmable pulse parameters: amplitude, rise time, fall time, pulse width, and duty cycle
Pulse and burst modes for material and device characterization
Serial data pattern simulation for functional characterization tasks
Independently adjustable rise and fall times
3ns to 1000s pulse width range
Four operating modes: pulse, burst, pattern, external width
GPIB and USB interfaces
2U full-rack design
Discontinued model.
Keithley 3402 Signal Generators are the latest additions to Keithley's growing line of instrumentation with pulse generation functions. They offer users extensive control over a wide variety of pulse parameters, including pulse amplitude, rise time, fall time, width, and duty cycle via the instrument's flexible user interface or over the GPIB and USB interfaces. This operational flexibility makes these instruments readily adaptable to the needs of a wide range of users, including nanotechnology researchers, research and education organizations, and semiconductor and RF device design and development departments. Built-in pattern generation capabilities simplify simulating serial data patterns when testing devices to characterize their performance while operating under sub-optimal conditions. Keithley 3402 offers users important performance advantages over some of the best-selling signal generators on the market, including clean transient response, simpler user interface, and easier integration into existing test and measurement systems.
The user interface for Keithley 3402 Signal Generators is designed to simplify configuring complex pulses and patterns. By using intuitive parameter menu keys and context-sensitive soft menu keys, users can navigate quickly to their desired parameter controls with just a few key presses — without many levels of confusing sub-menus and shift-key operations. An industry-standard SCPI command set makes these instruments code-compatible with the command set of other popular generators. This compatibility simplifies migrating existing applications from older hardware to the 3402 generators by minimizing the need to rewrite existing program code, which reduces the start-up time and costs associated with replacing older instrumentation.
Included: CD-ROM Manual Package, Line Cord, and Rack Mount/Handle Kit.