Keithley 4200-SCS/F Semiconductor Characterization System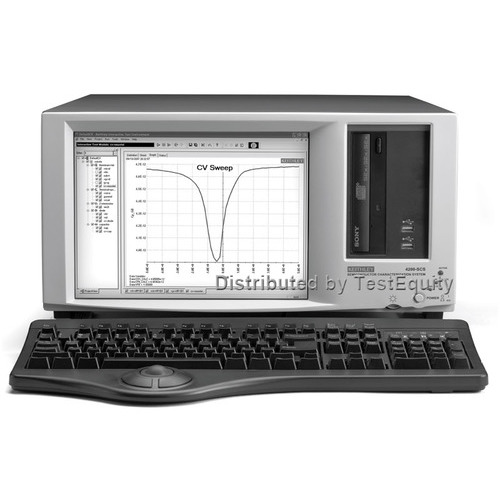 Brand:

Keithley

Condition:

Used

Family Models:

4200-SCS
DC I-V, C-V, and Pulse in One Test Environment
Intuitive, point-and-click Windows®-based environment
Unique Remote PreAmps extend the resolution of SMUs to 0.1fA
C-V instrument makes C-V measurements as easy as DC I-V
Pulse and pulse I-V capabilities for advanced semiconductor testing
Scope card provides integrated scope and pulse measure functionality
Self-contained PC provides fast test setup, powerful data analysis, graphing and printing, and on-board mass storage of test results
Unique browser-style Project Navigator organizes tests by device type, allows access to multiple tests, and provides test sequencing and looping control
Built-in stress/measure, looping, and data analysis for point-and-click reliability testing, including five JEDEC compliant sample tests
Integrated support for a variety of LCR meters, Keithley switch matrix configurations, and both Keithley Series 3400 and Keysight 81110 pulse generators
Includes software drivers for leading analytical probers
Leading-Edge Pulse Capability Integrated with Precision DC Measurement for the 65nm Node and Beyond
The easy-to-use Model 4200-SCS Semiconductor Characterization System performs lab grade DC and pulse device characterization, real-time plotting, and analysis with high precision and sub-femtoamp resolution. The 4200-SCS offers the most advanced capabilities available in a fully integrated characterization system, including a complete, embedded PC with Windows operating system and mass storage. Its self-documenting, point-and-click interface speeds and simplifies the process of taking data, so users can begin analyzing their results sooner. Additional features enable stress-measure capabilities suitable for a variety of reliability tests.
Much of the credit for the Model 4200-CVU's exceptional measurement accuracy, speed, and efficiency is due to the Model 4200-SCS's high speed digital measurement hardware and tight hardware and software integration, as well as Keithley's adherence to low-noise system design principles. This combination of strengths means the Model 4200-CVU can improve users' productivity significantly, whether the task is a simple as setting up a single measurement or running a preset test sequence with a single mouse-click or as sophisticated as triggering and plotting multiple C-V sweeps. The system's high speed digital architecture means the Model 4200-CVU can run and plot C-V sweeps in real time as fast as any competitive C-V meter. Keithley's modular system architecture means the Model 4200-CVU can be easily incorporated into any existing Model 4200 system ever manufactured, or configured into a new 4200-SCS system as an option.
Additional features:
Even infrequent users can begin testing productively right away, without programming assistance, for a lower cost of test and faster R OI
The flexible user interface makes it easy to change parameters on the fly and test devices interactively with just a mouse click
KTEI software supports three different test applications packages to expand the Model 4200-SCS's pulsed testing capabilities dramatically: 4200-PIV-A for charge trapping and isothermal testing for leading-edge C MOS research, 4200-PIV-Q for higher power pulse testing in III-V and other higher frequency FET devices, and 4200-FLASH for testing FLASH and embedded memory devices
KTEI makes C -V tests as easy to set up and run as I-V tests. An extensive set of sample programs, test libraries, and built-in parameter extraction examples are included. The latest software enhancements add support for high power C -V, differential DC bias, and quasistatic C -V measurements
Export test settings, data, and plots to .xls, delimited text, .bmp, .jpg, or .tif file formats
Sample tests and projects for a variety of applications are included to simplify startup
Factory-supplied drivers for external capacitance meters, switch matrices, pulse generators, and a variety of probers simplify building configurations for specialized applications
Optional drivers for leading modeling software packages let the Model 4200-SCS fit into any lab's test environment
Includes: Reference and User's Manual on CD-ROM, 236-ILC-3 Interlock Cable, 3m. All 4200-SCS systems and instrument options are supplied with required cables of 2m length.