Keithley 7001 Switch Mainframe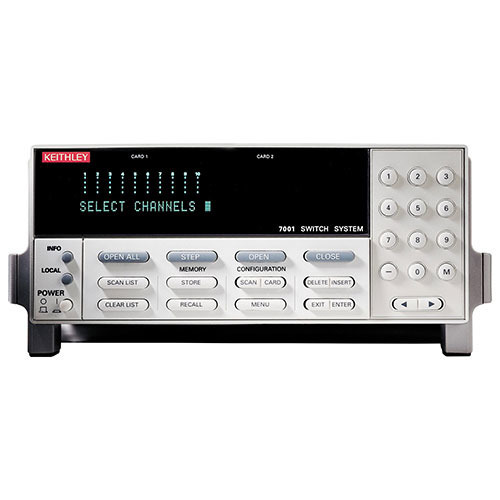 Brand:

Keithley

Condition:

Used

Discontinued:

Yes
DC, RF, and optical switch capability
Supports industry's broadest range of signals
Integrates easily with DMM and SourceMeter® instruments
Full channel status display
2 card slots
Supports more than 30 switch/control cards
The 7001 is a half-rack, high-density, two-slot mainframe with the highest density switching of any half-rack mainframe. A built-in non-volatile memory will store up to 100 complete switch patterns.
Up to 80 channels of 2-pole switching.
Each slot of the 7001 can accommodate up to 40 channels. Keithley has more than 30 switching cards from which to choose. Built-in scan control eliminates the need for the computer to control every step of the test procedure.
An analog backplane eliminates intercard wiring and increases configuration flexibility. Two cards may be connected through the backplane to create a 1x80 multiplexer, a 4x20 matrix, or a multiplexer/matrix combination that provides matrix row expansion.
See the status of every channel simultaneously.
The display of the 7001 shows the open/close status of each channel in the mainframe simultaneously. The graphical display pattern makes it much easier to configure a test system, make modifications, or debug an existing program. The status of the cards in both slots is displayed side by side on the same screen.
Easy to Set Up and Use.
The 7001 has a number of built-in features that make it easy to set up, run, change or modify. It conforms to IEEE-488.2 and SCPI (Standard Commands for Programmable Instruments). All aspects of the instrument can be programmed from the front panel and over the GPIB bus.
Trigger-Link enables the use of up to six independent programmable hardware triggers to synchronize the operation of multiple instruments in a system.