Keithley 7002 Switch Mainframe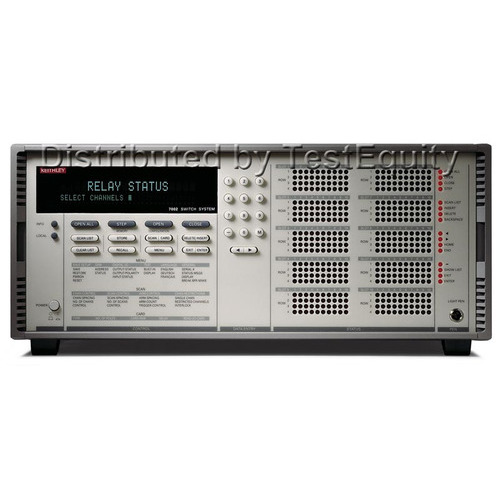 Brand:

Keithley

Condition:

Used

Discontinued:

Yes
Space-efficient, 400 channel mainframe handles large applications.
10 Independent card slots for multiplex, matrix, RF, low-level, and I/O control.
52-Character alphanumeric display provides clear, readable help and information.
165 Channel per second scanning for exceptional system throughput
Accepts more than 30 different switch cards for tremendous application versatility.
Interactive front panel status display and optional light pen simplify programming
Built-in scan control and 500-pattern memory eliminate the need for a computer to control every step of a test procedure.
Switch cards offer maximum signal integrity and convenient, high-quality connectors for simplified cabling and increased reliability.
Drivers available for LabVIEW, LabWINDOWS/CVI, and TestPoint to simplify and accelerate test program development.
The Model 7002 Switch System is a 10-slot mainframe providing high signal integrity and tremendous flexibility. More than 30 types of available switch cards make the 7002 one of the most flexible switching mainframes available. The 7002 can switch signals from femtoamps to amps, nanovolts to kilovolts, and DC to 1GHz. Support for up to 400 2-pole multiplexer channels or matrix crosspoints reduces the amount of switching hardware required for a given application.
Setup and maintenance are simplified by the interactive, graphical channel status display and optional light pen.
Signal integrity is maintained by the careful design techniques that minimize channel cross-talk, EMI/RFI interference, and power line disturbances - both in the mainframe and on the cards.
Ultra-high throughput is achieved through the use of programmable scan lists, memory patterns, and triggering which enable the 7002 to synchronize with and control other instruments in the ATE rack without the need or overhead of a PC.