Keithley KICKSTARTFL-BASE KickStart Instrument Control Software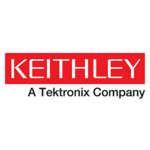 Keithley KICKSTARTFL-BASE KickStart Instrument Control Software
27103.1
MFG #: KICKSTARTFL-BASE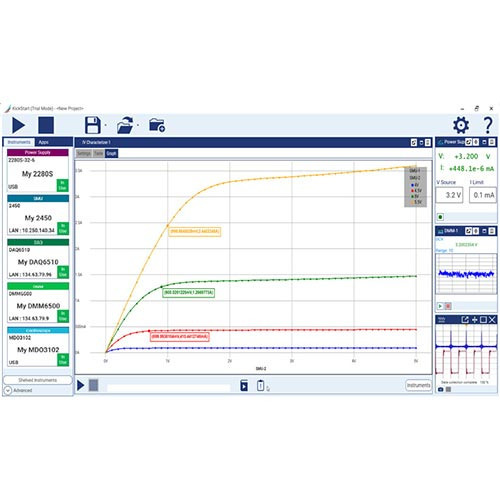 Accessories Description:

Base package

Condition:

New

Drill Down Description:

KickStart Instrument Control Software

Model:

KICKSTARTFL-BASE

Quote Required:

No

S3 Part Number:

27103.1
Save time by automating data collection of millions of readings.
Set up a multi-instrument test with the ability to independently control up to eight instruments.
Supports source measure unit (SMU) instruments, DMMs, power supplies, oscilloscopes, dataloggers, and sensitive instruments.
Replicate tests quickly using saved test configurations. • Use built-in plotting and comparison tools to quickly discover measurement anomalies and trends.
Auto-export data in ready-to-use .csv and .xlsx formats for reports and additional analysis.
Accelerate the path to the measurements you want with KickStart Software. KickStart simplifies what you need to know about the instrument so that in just minutes you can take the instrument out of the box and get real data on your device. By plotting data immediately and offering quick statistical summaries of the data in the reading table, KickStart allows you to gather insights faster and make the decisions you need to move on to the next stage of device and product development. KickStart saves you time by facilitating quick replication of tests and comparison of results using convenient export features. With KickStart, you can focus on interpreting the test results so that your team can meet their innovation goals.
KICKSTARTFL-BASE includes five apps to control your SourceMeter SMU instrument, DMM, data logger, power supply, or oscilloscope.
Data Logger - Use the KickStart Data Logger App to set up and control your multi-channel data acquisition instrument. This app is designed to help you configure all your channels very quickly and even validate your connections during test configuration. It allows you to set up multiple channels with the same configuration but give each channel a meaningful label so that you can quickly scan your results and grab the information you need. Configure pass/ fail limits for each channel in order to set alarm conditions and obtain quick visual verification of test results.
Precision Multimeter - This app affords you a simple way to log data using your Keithley DMM or sensitive measurement instrument. Plot and inspect waveforms from the digitizer built into the DMM. Trigger digitizer on digital events or programmed analog levels.
Power Supply - This app simplifies supplying power to your device or system. Quickly set up automated tests using bias or list sweep mode. Interactively control bias conditions while monitoring measurements on another instrument. Use along with the Precision Multimeter App for an application such as power consumption analysis or monitoring load current stability.
I-V Characterizer - Use the I-V Characterizer App to perform current vs. voltage (I-V) test on a variety of materials, two-terminal and multi-terminal semiconductor devices, solar cells, and much more. You can configure each SMU for a variety of bias and sweep sourcing operations, including linear, log, list, and dual sweeps.
Scope - Use the Scope app for data capture and datalogging of waveforms, measurements, and screenshots. The Scope app supports data retrieval from analog channels from the supported Tektronix scopes. KickStart can also retrieve data from Reference Channels and Math Channels. The Scope app will either capture present data (without waiting for a trigger) or will arm the scope to wait for a trigger, stop the capture to gather data once scope has been triggered and re-arm scope to wait for next trigger after data is captured.
Supported Instruments
| Instrument Type | Model | KickStart App |
| --- | --- | --- |
| Data Acquisition Units | DAQ6510, DMM6500, 2700, 2701, 2750, 3706A | Data Logger |
| SMU Instruments | 2450, 2460, 2461, 2400, 2401, 2410, 2420, 2425, 2430, 2440, 2601B, 2602B, 2604B, 2611B, 2612B, 2614B, 2634B, 2635B, 2636B, 6430 | I-V Characterizer |
| DMMs | DMM6500, DMM7510, DAQ6510, 2700, 2701, 2750, 2000, 2010, 2110 | Precision DMM |
| Power Supplies | 2280S, 2281S(power supply mode only) | Power Supply |